FremanWeb Update v2.14 | January 2017
Posted on 26 January 2017
Improved third party sender support and data management enhancements in Freman Web v2.14
The latest Freman Web release is now live and contains the following updates:
Streamlined third party sender process with consignment documents emailed directly from Freman Web
New Optional product information added – Commodities
Dangerous goods - Easier management and bulk validation of DG records
Simplified receiver data import process
Additional Book In options

Email consignment documents directly to the sending/pickup location of the goods for third party pick-ups. Making the Freight Forward and Returns process even easier.
This is a great feature to use if you are creating a Freight Forward job or Returns pickup request from 'Non-standard senders' It enables the sender of the goods/person at the pickup location to print out their documentation prior to our drivers arriving on-site to pick up the goods.
Simply enter the email address they would like to email the documents to and click 'Send'. This will upload the note to Mainfreight and email the docs to the specified email address.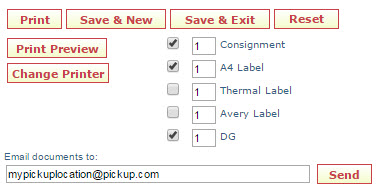 When the sender receives the email and documentation, they must print out the consignment notes and labels to accompany the goods, then contact their pickup branch when the goods are ready to go.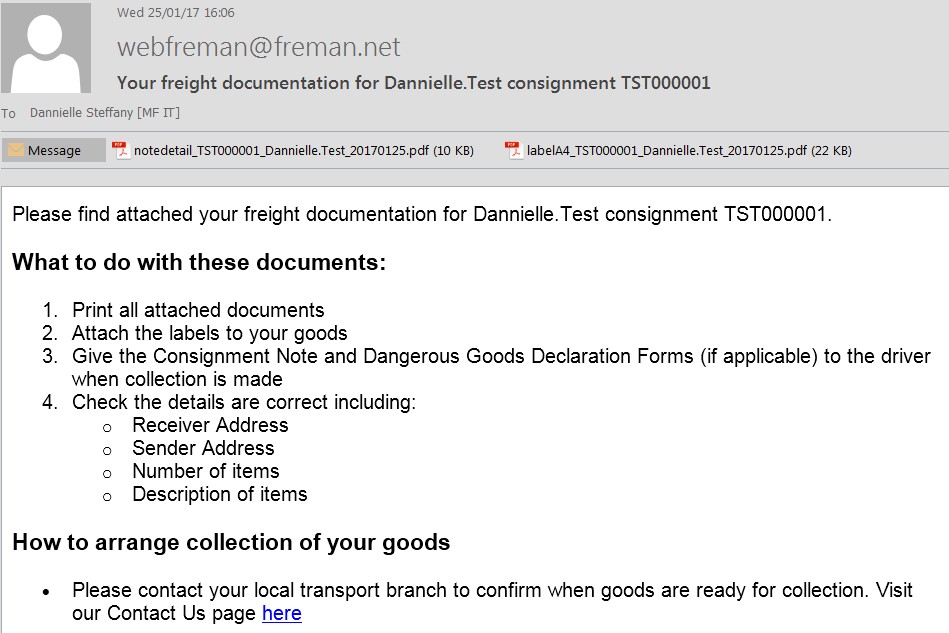 Note: This completes the Returns/Freight Forwarding functionality in Freman Web supporting consignments created through data entry or EDI. If you are interested in Freman Web EDI or updating your current EDI files please contact your account manager.
Provide more details about the type of goods being sent with Commodities:
A new OPTIONAL Commodity field has been enabled for all customers. This is available in the New Consignment Note and Products pages. When creating a consignment note you can now specify the type of product you are sending. This helps our operations teams easily identify your goods during pickup, sorting and delivery.
You can choose from a range of options:



Please note, This is currently OPTIONAL. In May 2017 specifying the Commodity type will be mandatory for all lines on a consignment note. This Commodity information can be stored and saved against your products list in Freman Web.
If you would like any assistance in bulk updating your products please contact your account manager.
Easier management and bulk validation of your Dangerous Goods products
For customers with Dangerous Goods, Freman Web's product and dangerous goods import tool allows you to quickly upload, save and validate DG information in the system. Your Dangerous Goods Declaration forms can then be printed automatically when creating your consignments
To make the validation process even easier, we have added the Acid and Alkali fields to the Dangerous Goods import template so this value can now also be specified in the import file.

When importing your products and dangerous goods information to Freman Web, simply select Validate from the Maintain>Products screen to check the contents of your import file and DG data uploaded.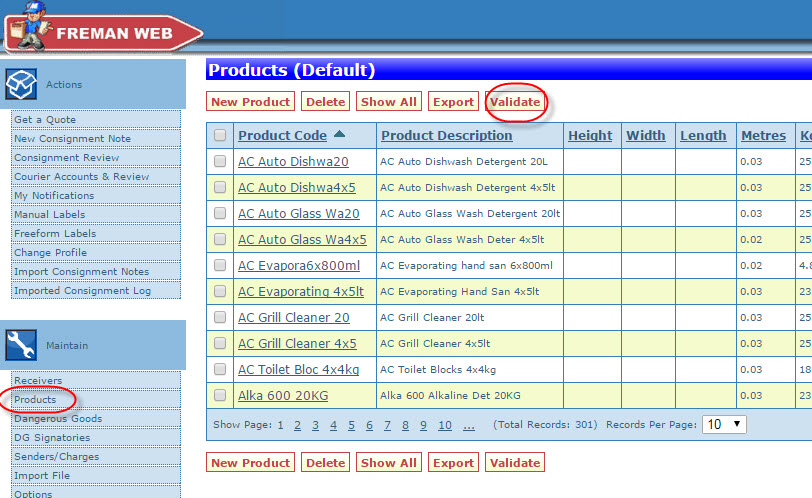 To obtain the import templates from FremanWeb, go to Maintain > Products > Export ; Maintain > Dangerous Goods > Export
Simplified Receiver Management import process for Australia
To speed up the process for creating consignments it's a good idea to save your most common receivers in Freman Web for quick retrieval by name or your internal reference code. These can be entered and saved in Freman Web or imported using the Receiver Template.


To make importing your receiver information into Freman Web even easier for Australian customers, we now only require the Name and Address information plus the City, Postcode and State details to validate the address for you before storing it in Freman Web for future use.
To obtain the import templates from FremanWeb, go to Maintain > Receivers > Export
Ability to provide more information on Consignments which require a Delivery Book In Timeslot:
You can now specify the Delivery Book In requirements when creating a consignment as:
NOT REQUIRED - a Delivery Book In timeslot does not need to be arranged by us before delivery
REQUIRED - a Delivery Book In timeslot needs to be arranged before delivery
CONFIRMED - a Delivery Book In timeslot has already been arranged and confirmed for delivery to occur

Also included in this release
Minor bug fixes
Performance enhancements
Feel free to contact us via mainchainsupport@mainfreight.com with feedback or ideas on how we can improve Freman Web even more or to find out more about Freman Web talk to your Account Manager or your local branch.