Freman Web Update v.2.3 | May 2014
Posted on 23 May 2014
Dangerous Goods Validation
This update includes a new Dangerous Goods validation tool. This is to ensure we get 100% correct DG declaration/transportation forms that accompany your Dangerous Goods freight. It also makes creating and saving DG data in FremanWeb a lot faster and easier.
Providing incorrect Dangerous Goods declarations could result in penalties to both the individual who signs it off and your company. It can also significantly increase the risk to both the environment and the safety of the people around it.
FremanWeb Dangerous Goods Database
We have connected FremanWeb to a governed Dangerous Goods database which holds all possible DG records for every registered UN number.
When creating a DG record you will enter your UN number and FremanWeb will retrieve all available DG details from the database to save against your products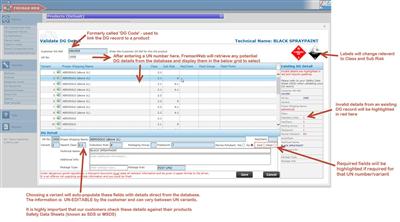 It is highly important that you refer to your products Safety Data Sheets (SDS or MSDS) when validating and completing their Dangerous Goods records as there can be many variants of some UN's which contain subtle differences
Validating your products is easy
When creating a new consignment note, you will see two new DG icons which identify if the DG record has been Validated

or is Un-validated


A DG record is deemed validated once all DG details have been confirmed and saved in the new DG Validation tool
When clicking Save, Print or Preview we'll notify you if a DG on that consignment note is un-validated with the below message: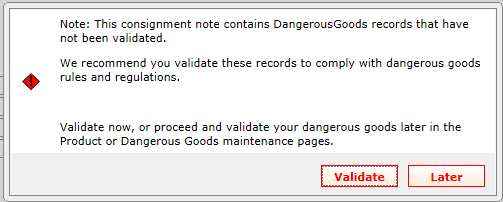 Once you have validated this particular product, you will not have to do this again

If you do not have the Safety Data Sheet for this particular product on hand you can click Later to skip validation this time. You will receive this message every time you send an un-validated DG
Validating anywhere in FremanWeb
Just by clicking on the un-validated

icon you can validate you DG records anywhere in FremanWeb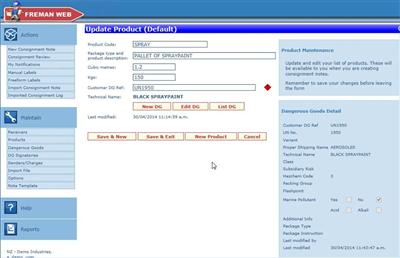 Product list
DG List
Consignment creation
Help Manual
There are available FremanWeb provided detailed information on the latest update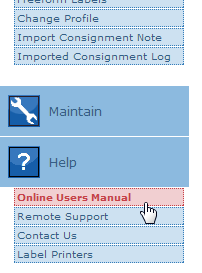 If you need further assistance when using our new Dangerous Goods validation tool please contact your local branch or Account Manager
Other Changes in the release
Bug Fixes
Performance enhancements
UI improvements
Feedback
Feel free to contact us via mainchainsupport@mainfreight.com with feedback or ideas on how we can improve FremanWeb even more