Welcome Tours, wharf and logistics updates in Mainchain 4.31
Posted on 30 October 2018
What's New in Version 4.31
Our latest release introduces the following great new features:
Helping you get the most out of Mainchain with our Welcome Tour!
Mainchain is our global supply chain portal designed to create and provide visibility of all your orders and shipments on the go. To help get the most out of Mainchain's, new users will now see our new 'Welcome to Mainchain Tour' when they first login.
To hide the tour, you'll can click 'Do not show this window again' or complete the quick tour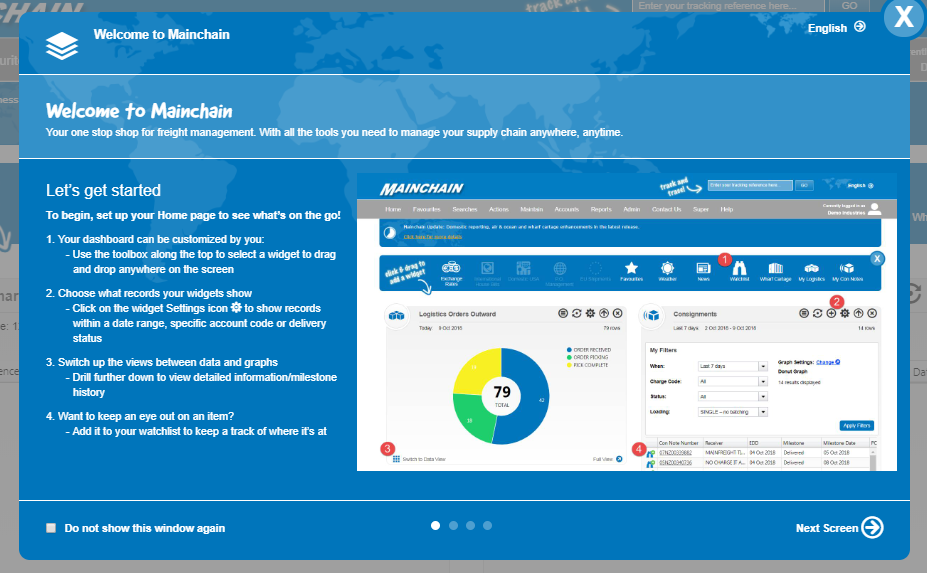 This tour is for new users only but more tours are on the way, so keep an eye out for these and get familiarized with Mainchain's many features!
Customising your Columns in your Wharf Cartage Search and Widget Results Grids
When viewing results in any of our search screens or the Full View in your widgets, you can customise the columns displayed and the ordering of these to suit you by dragging the columns into the locations you want.
For our Wharf Cartage you can now also show/hide the Job Number column via the Manage Columns feature.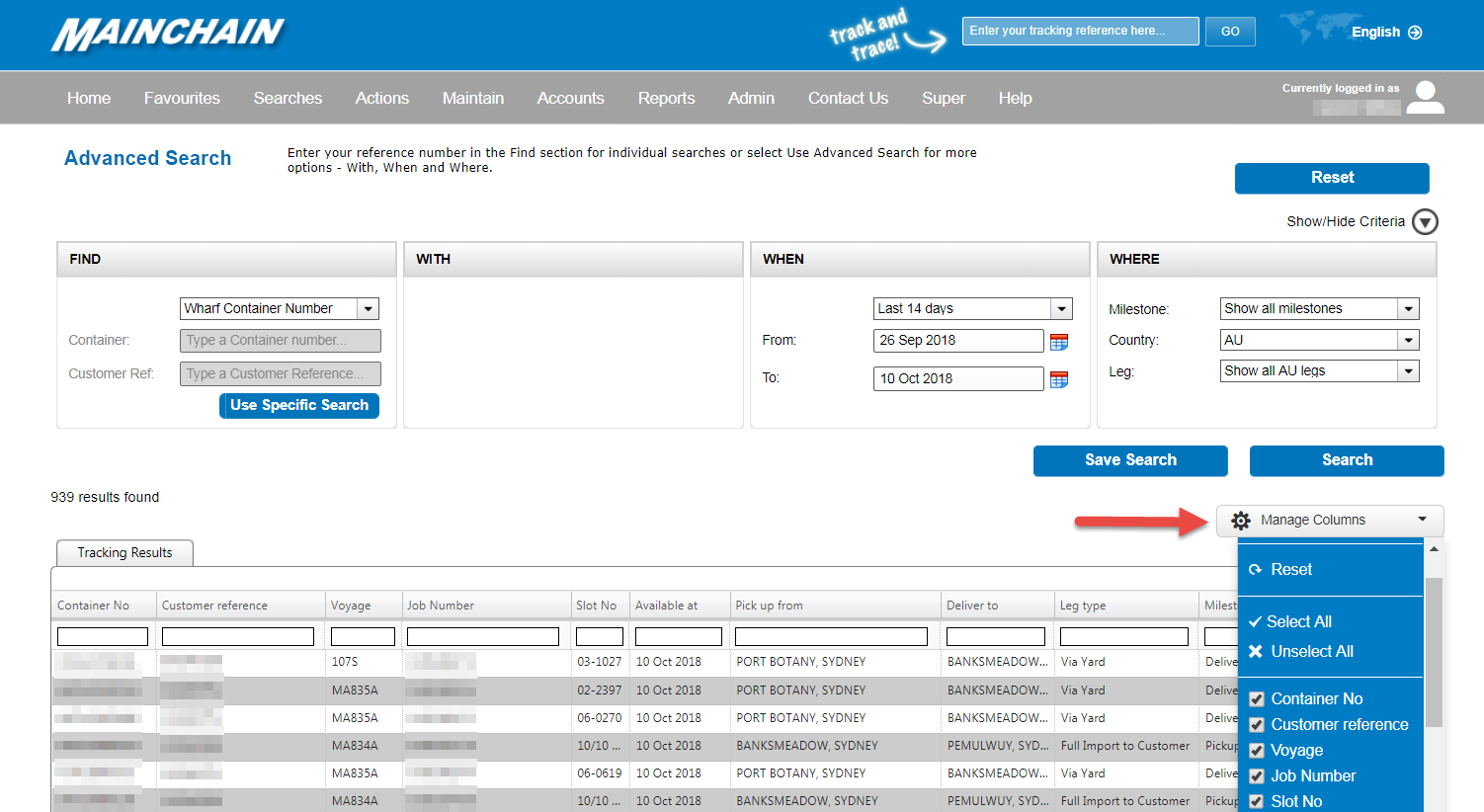 Ability to create and manage OnIssue items against Wharf Cartage jobs
We know how important prompt communication is, and we understand the value of good information which drives continuous improvement in our partnership with your business.
To help you track, manage and communicate with us on your Wharf Cartage Container movements from Port to Destination in New Zealand and Australia, we have added the ability for you to quickly now also create a Wharf OnIssue request for your container job.
To find out more about OnIssue please contact your Account Manager or local branch.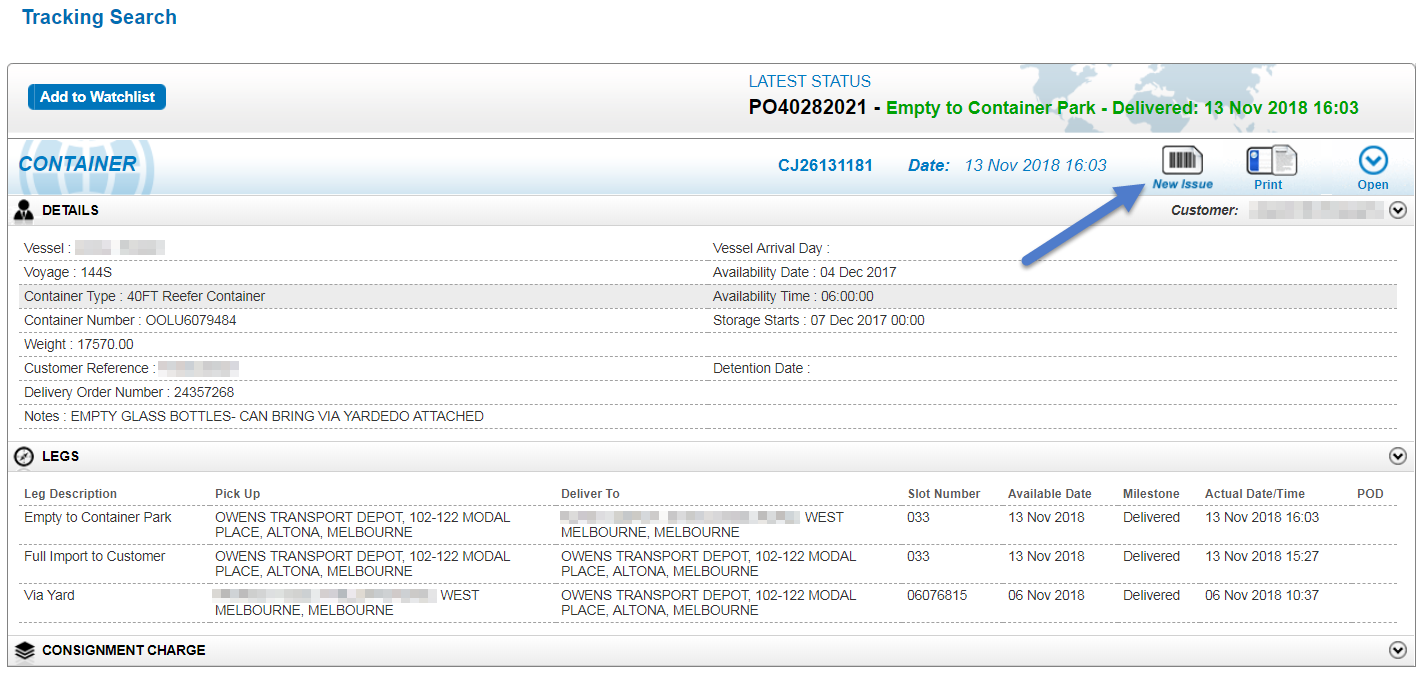 Reminder Notifications when Scheduled Reports are due to Expire
Mainchain offers many standard Warehouse, Transport and Air & Ocean reports for you to download, view or schedule to receive periodically via the Reports menu.
Scheduling reports means that each report is created and emailed to the recipients you create in Mainchain. Reports will run for 12 Months from when they are first set up.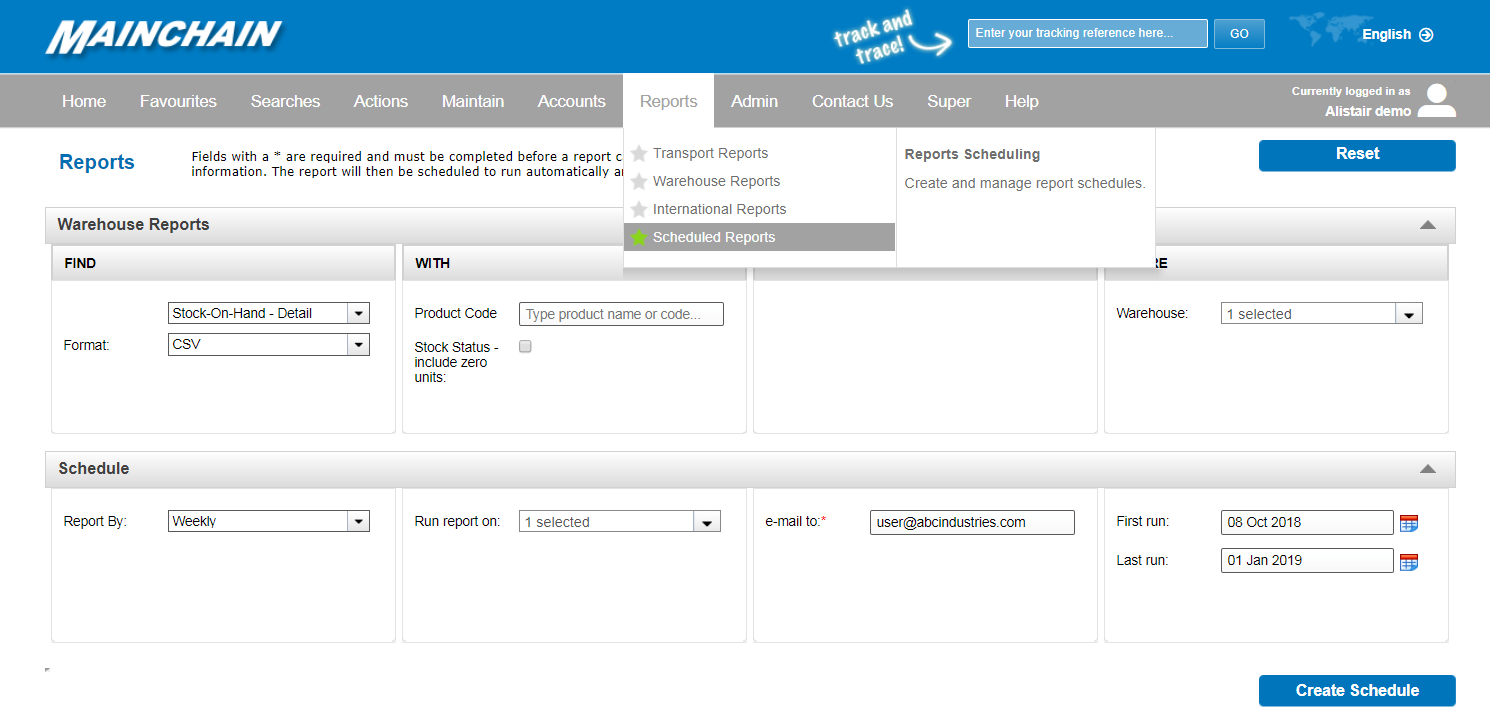 When your Scheduled Reports are due to expire we will now send you a notification so you can update the recipients, formats, and expiry dates if required.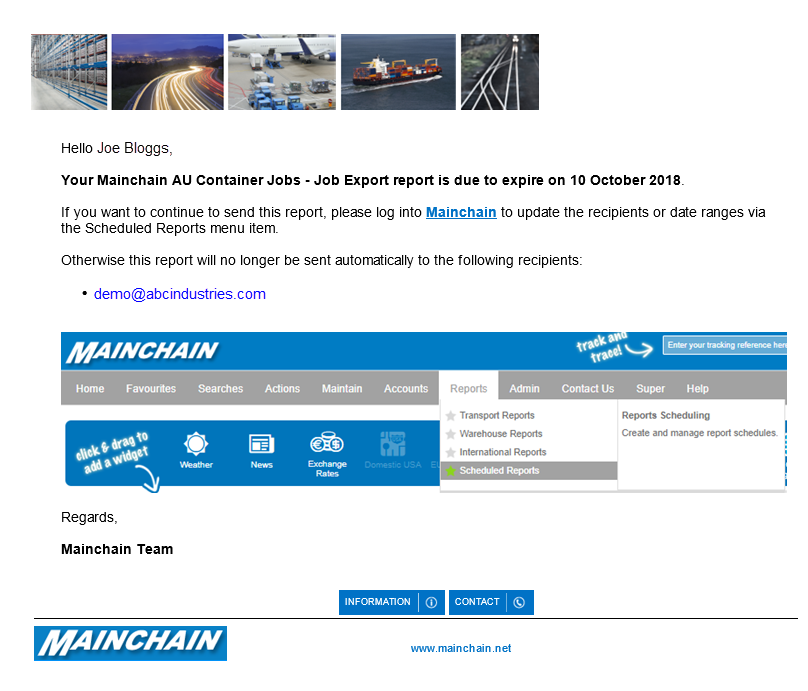 Links to Australia Post tracking pages for Outward Logistics Orders
For your Outward Orders despatched from our 3PL Warehouse facilities using Australia Post to deliver, we have always displayed your latest tracking information within Mainchain.
However to make life easier, we've added a hyperlink in the Tracking Details page to the Australia Post website for those times when you need to enquire further about an item in transit.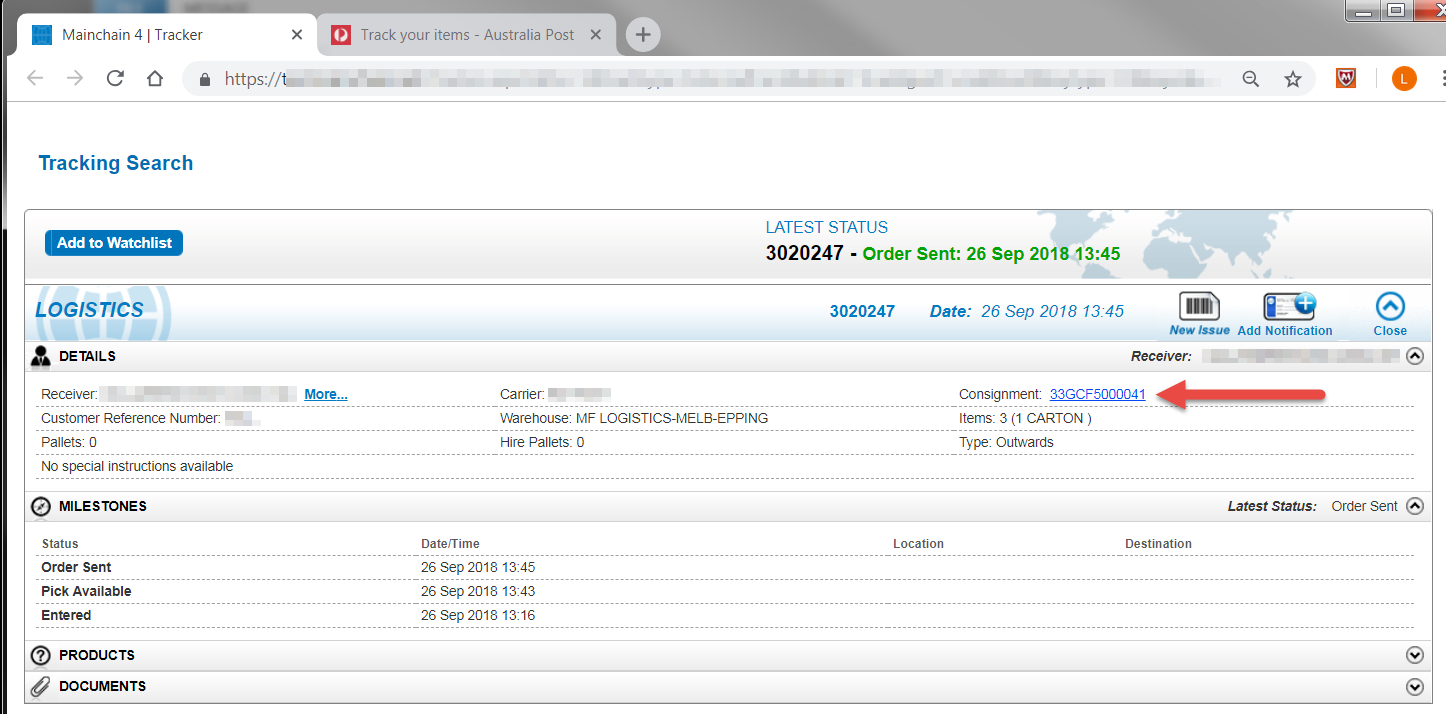 Selecting the Hyperlink will take you to the Australian Post tracking information page for that order.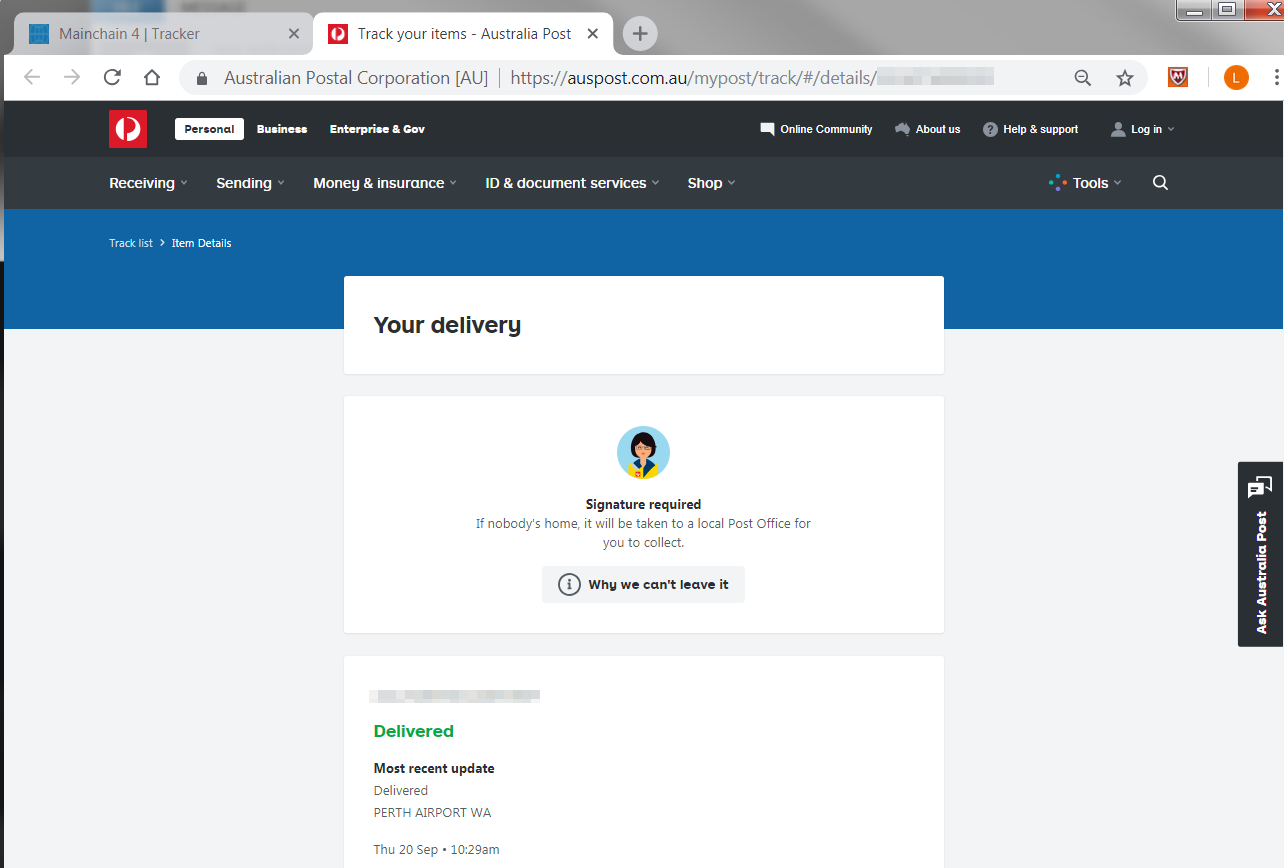 Creating European Transport Shipments via Shipment Centre EU
We have removed access to our old E-Shipment portal in the Actions menu of Mainchain.
So when creating transport shipments in Europe, these should now be created in our newer platform 'Shipment Centre EU'. Please go to Actions>Shipment Centre EU moving forward and contact your local branch if you need any assistance.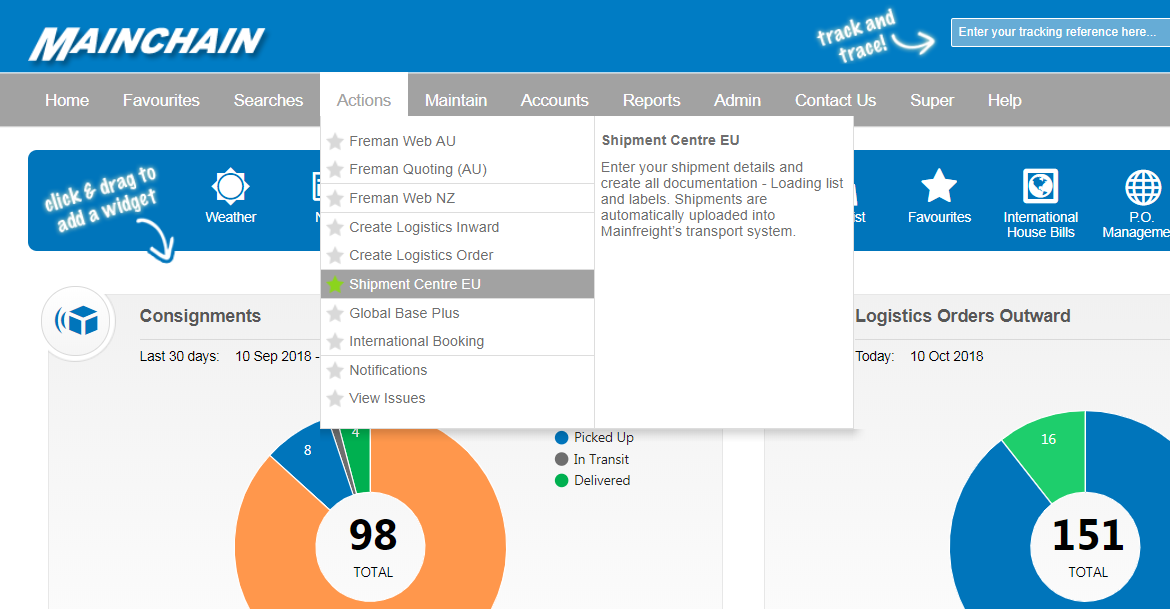 Managing your Company's Mainchain Logins
Managing who can login to your company's Mainchain account is easy if you are the Mainchain Admin user.
Simply go to Admin>User Management to create, update or disable access to your account.
When creating a new login, the user will also be sent a welcome email prompting them to set their Mainchain password




Additional Features
•Performance enhancements to the Logistics Inward Order creation process for our Australian, New Zealand, and United States 3PL customers.