The Mighty Manawatu | Mainfreight's new Palmerston North Depot
Posted on 27 March 2013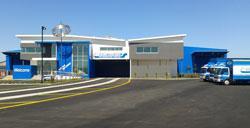 Our new Palmerston North depot was officially opened by our Chairman Bruce Plested on Monday 18th March, in this, our 25th year of business in Palmerston North. Previously located in Railway Road, our home for nearly twenty years , this new depot is in almost the same spot as where we first opened in Palmerston North back in 1988 – we've come almost a full circle!
We proudly welcomed our customers and suppliers from the Palmerston North and wider Manawatu area along with Directors, Executives and Mainfreight Team with performances from the children of the Somerset Crescent School Pacifica Pride Cultural Group.
Mainfreight Palmerston North are well placed to offer complete supply chain services, with both domestic transport and international air and ocean services on site in the one location.
Sustainability is at the forefront of Mainfreight's thinking when we build our new depots and Mainfreight Palmerston North is no exception with solar power for all hot water heating, CO2 and dust sensors to activate extractor fans, Mainfreight Palmerston North is clean and green!
Our new state of the art $11 million depot in Palmerston North offers:
27,000m2 of land with 6,500m2 of dock
Dedicated port holes for end loading
Conveniently located on a rail siding
Fully enclosed MAF Biosecurity area
Electric hoists and jiffy's
With this bigger, brighter better depot, the Manawatu region can look forward even more of the superior supply chain service of our dedicated Palmerston North team.
Contact Mainfreight Palmerston North Transport and Mainfreight Palmerston North Air and Ocean teams who warmly welcome you to their new depot.