Taking Melbourne by Storm
Posted on 26 October 2015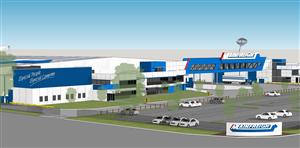 Our commitment to delivering exceptional customer service across all areas of the supply chain has seen our investment in our network and facilities continue to increase. Our new Melbourne supersite combines Transport and Logistics operations on the one 11 hectare development.
Rodd Morgan, Australian General Manager, notes "our investment in first class facilities enables our team to provide innovative and high-quality freight services for our customers. The consolidation in Epping of our existing north and west Melbourne sites will support our future growth expectations and fulfil our needs in the delivery of our full spectrum of logistics and freight operations."
Our 20,000m2 logistics space provides a 70% increase on our current Somerton site and provides a range of service capabilities, including:
Substantial hard stand for container loading and unloading
10 dock levelers
Temperature controlled areas
Food grade compliance
1000m2 cool room facility
2,100m2 mezzanine deck
Space for 26,000 pallets
Connected by a covered breezeway, our new 16,500m2 freight facility will replace our Stubb St transport branch. Fitted with 7 docks, our new freight design provides premium access for B-Doubles and other large vehicles to control the efficient and effective handling of freight.
The site is strategically located in Melbourne's high growth northern suburb of Epping where we will be able capitalise on the location's access to main arterial roads and freeways and connection to north eastern seaboard cities.
Combined with our transport branch in Clayton (in Melbourne's south eastern suburbs) and regional branches in Ballarat, Geelong and Albury, we are strategically positioned to service customers to and from every corner of Victoria and our customer's right across Australia.
Compliance, Safety and Training
The new super-site will also house our national training facility which will be fitted with 4 separate training rooms to hold multiple training sessions at the one time. The training facility also boasts an in built trailer and dock for loading and un-loading training. Our new facility will ensure our team are equipped with the skills to deliver the safest and highest quality supply chain services.
Like to find out more about our Epping supersite and how it can help you with your freight needs? Contact your local Mainfreight sales executive.