Service Announcement | Coronavirus Update | February 2020
Posted on 19 March 2020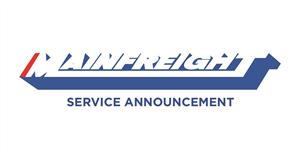 Air & Ocean Service Announcement

Coronavirus Update
The Mainfreight teams in Mainland China and Hong Kong have continued to keep us informed this week around the Wuhan Coronavirus situation and its impact on commercial activities in affected regions.

Progress towards a normalisation of trading after the extended Chinese New Year (CNY) period has been challenging as expected.

Aside from the Mainfreight branches in Tianjin, Beijing and Ningbo, which remain closed while local reopening requirements are met, all of our other branches are open and operational.
In order to minimise the risk of infection for our team, and in accordance with Central Government guidelines, our teams are in the offices on rotating shifts or working remotely.

While shipment bookings can be made as normal, our teams report that a lot of supplier factories and warehouses remain closed. This is particularly prevalent within the Hubei province, as well as Anhui, Zhejiang, Henan, and Chongqing, which all remain closed until further notice.
The factories we work with outside of these provinces have told us that the Government is requiring them to have available 6 weeks' stock of masks for all team members before they are allowed to resume operations.

At the time of writing, we are finding that Chinese customs processing is back to normal, albeit with delays due to an increase in compliance requirements.
The Yang Shan terminal in Shanghai, Xingang & Ningbo ports are yet to reopen. Qingdao, Yantian, Wai Gao Qiao Shanghai, (WGQ), and Xiamen ports are operating, albeit again with delays.

Cross border and inter province or city road transport is still an issue with licencing restrictions and quarantine period requirements for drivers having an impact in some areas. Hong Kong is the exception where we are currently able to use road transport across the border, however rail is restricted.

Air freight remains constrained. Cathay for example has reduced flights by 90% in and out of mainland China.
Mainfreight offices in Hong Kong, Taiwan, Malaysia, Singapore, Thailand, Japan and Vietnam are all operating as normal.
Our advice from earlier updates is largely unchanged; we encourage our customers to talk through their situation with their local Mainfreight Air & Ocean teams. While the business environment in China has improved, it does continue to be uncertain.

Our teams in New Zealand, Asia, the Americas, Europe and Australia will continue to provide updates as information comes to hand.
If you have any questions please do not hesitate to contact your Mainfreight Account Manager, or local Air & Ocean branch.
Best regards

The Mainfreight Team