Owens Joins The Queensland Reds
Posted on 3 April 2012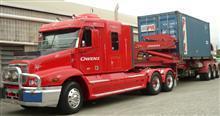 Over recent years, Mainfreight has achieved massive growth in our Queensland area; now we are cementing this progression by introducing container transport capabilities in Townsville. Our new Owens Transport branch provides importers and exporters with reliable container transport to and from the wharf and associated tasks.
Owens Townsville can offer container transport, general/break bulk transport, crane truck services, and container transport tracking covering the Townsville area and linking into our Australian Mainfreight transport network. Queensland branch manager Dean Ashton notes that "combined with our branch in Brisbane, we are in a unique position of generating a real presence of container transport in Queensland and throughout Australia"
The newly opened Owens Townsville is joined by our Owens branches in Brisbane, Melbourne, Perth and Sydney to offer our customers a single wharf carrier for all container movements.
Interested in learning more about our growing business in container transport? Contact your local Owens or Mainfreight representative.