Mainfreight Service Announcement | January 2016
Posted on 7 January 2016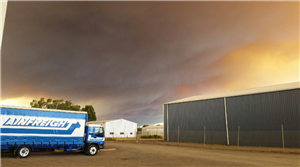 Intense weather is currently being experienced on the east and west coasts of Australia.
As previously reported the New South Wales coastline has been battered with heavy rain and floods which has affected our service throughout the Newcastle and Hunter Valley region. The rain has eased on the east coast and we are back to full force and will be doing our best to clear all deliveries.
Bushfires in Bunbury, Western Australia
While the east coast recovers from heavy rainfall, the west coast of Australia is currently fighting bushfires. Some businesses will be shut but we will be making every effort to service stores selling emergency supplies.
Our Bunbury linehaul unit will face road closures and delays as we navigate through these conditions, but we remain focused on making deliveries when it is safe to do so.
The continuous heat which is expected to reach over 40 degrees again today and accompanied by 60km winds is putting pressure on operations throughout the state.
This is a photo from our depot in Bunbury.
We appreciate your patience and understanding as we face these challenges together. We will update you with information as it becomes available.