Deloitte Top 200 Names Mainfreight Company of the Year and Don Braid Executive of the Decade
Posted on 6 December 2019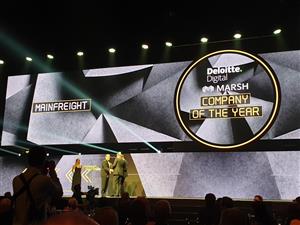 What an amazing night it was at Deloitte's Top 200 Awards Night last Thursday (December 5th, 2019) at the Spark Center in Auckland as Mainfreight was awarded "Company of the Year" and Managing Director, Don Braid was named "Executive of the Decade".
The room was filled with around 1000 exceptional business leaders from New Zealand, including the winners and finalists who've been recognised for their focus on shaping the future; led by executives thriving on the opportunities presented by innovation and globalisation.
In accepting the award, Managing Director Don Braid acknowledged each team member as an integral part of Mainfreight's global business and the accolades recieveded that night. "We are very humbled by this award. The award of course is for the people of Mainfreight, because it is the people that make the company, not the company making the people. For the 8,583 people working for Mainfreight all around the world working their butts off for our customers this is for you".
---
For more photos and coverage of the event, visit the resource links below:
Mainfreight Likedin - https://www.linkedin.com/company/mainfreight
Mainfreight Facebook - https://www.facebook.com/Mainfreight
NZ Herald News Article - https://www.nzherald.co.nz/business/news/article.cfm?c_id=3&objectid=12290879
NX Management News Article - https://management.co.nz/article/top-200-deloittemanagement-magazine-executive-year-don-braid-%E2%80%93-clear-vision