Annual General Meeting 2019 | Chairman & Group Managing Director Speeches
Posted on 31 July 2019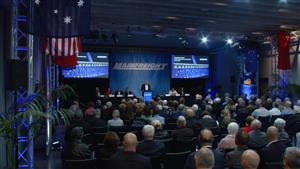 Mainfreight held its annual general meeting of shareholders on Tuesday, 30 July 2019 at Villa Maria in Auckland.
Our annual general meeting allows our shareholders and interested parties a transparent view into our present and future business activities.
Highlighted in the annual general meeting...
Great performance across all our brands which is shown by our increased revenue on last year
The continuous growth of our global network - breaking into two new countries and adding 13 new branches worldwide
Future planning with over 30 building and land projects underway with an expected capital investment of over $400m in the next two years
Attached is a copy of the addresses given by our Chairman, Bruce Plested and our Group Managing Director, Don Braid at the annual general meeting. Feel free to download a copy and have a read for yourself. We are proud of our results and look forward to moving another year into our 100 year vision. As always, we remain focused on setting the bar high with new service initiatives, new branches worldwide and continuous improvement in every area of our supply chain capabilities.
Watch the recorded meeting in the video below.