A very special shipment
Posted on 30 April 2019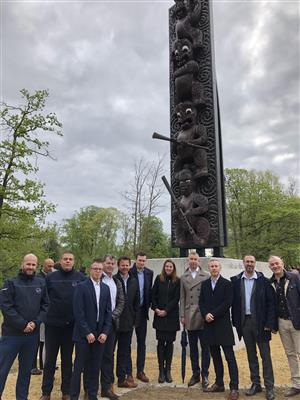 Mainfreight recently took care of a 40ft open top container shipment from New Zealand to Belgium. The shipment was something out of the ordinary, as it contained a "Pou Maumahara" - a gift from the New Zealand Māori Arts and Crafts Institute (NZMACI) in Rotorua (New Zealand) to the Memorial Museum of Passchendaele in Zonnebeke [Belgium].

The Pou Maumahara was a gift to commemorate the Maori battalion that fought on the Western front in WW1, as well as those that remained at home. The Mainfreight Air and Ocean teams in New Zealand and Belgium handled the shipment, while the Zwijnaarde team delivered it to the site.

On the 25th of April - Anzac day - a few Mainfreight team members that took care of the transport were invited to attend the official unveiling and blessing of the Pou Mauhamara.