Service Announcement | Road Closures | 17th January 2014
Posted on 17 January 2014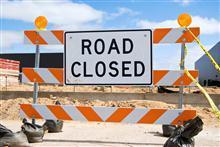 As tennis players battle it out at the Australian Open in Melbourne, the extreme weather is causing disruptions across Victoria and South Australia, Jo-Wilfred Tsonga even suggested it was so hot his shoes melted while out on court.
The continuous heat which is expected to reach over 40 again today is putting pressure on operations throughout the states.
Bushfires
Extreme bushfire conditions have forced road closures and high alerts throughout the Grampians region in the west of Victoria and throughout regional South Australia. There are currently 22 bushfires burning in South Australia and as a result our service into these areas may be affected.
Main roads through the Grampians have been closed and people are being asked to leave affecting our service throughout the Grampians, Beauford and Trawalla.
There are multiple fires along the Hume Highway stretching from Beveridge towards the Metropolitan Ring Road. The Hume freeway is currently closed at Cooper St.
Our drivers will be around these areas and we will be doing our best to make deliveries when it is safe to do so.
Tasmania Service
Sea Roads have announced that their ships running from Melbourne to and from Tasmania have been dry docked due to extreme heat. Our service into and out of Tasmania will be affected and we expecting to add another 3 or 4 days to transit times into this region.
We appreciate your understanding and will are expecting to clear the backlog by late next week.
South Australia – Tour Down Under
The Cycling event Tour Down Under gears up this Sunday through to Friday 24/01/2014 forcing road closures through the Barossa region affecting service as follows:
Monday 20/01/2014
Tuesday 21/01/2014
No service to Angaston
Limited service to Nuriootpa
Parts of Murray St blocked
Wednesday 22/01/2014
Very limited service to Stirling
Thursday 23/01/2014
No service to Mount Peasant
No service to Springton
Very limited service to Kersbrook
Very limited service to Williamstown
Friday 24/01/2014
Limited service to Victor Harbor and surrounds
We appreciate your patience and understanding as we face these challenges together. We will update you with information as it becomes available.