Regional Transport Direct Transit - No Trans Shipment Required
Posted on 24 September 2013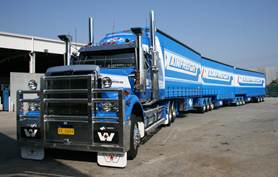 The strength and reach of our nationwide network is the backbone of our nationwide transport and logistics service. As a team, we are focussed on setting the bar high with new service initiatives and continuous improvement in every area of this service.
To meet the ever increasing demand for freight moving into regional Australia, Mainfreight now has more direct linehaul units to more regional transport destinations. With established direct linehaul units into all major cities and key regional centres, Mainfreight is adding new services to regional areas of Cairns, Mackay, Port Macquarie, Marocchydore, Darwin, Dubbo, Newcastle, Toowoomba and more.
There direct transit services mean your freight will not have to be cross docked via our capital city hubs. For example freight from Melbourne to Dubbo will no longer need to travel through Sydney, reducing the risk of damage to consignments.
Leading into the busy freight season, this initiative reduces impact on our main hubs to ensure DIFOT (Delivery In Full On Time) levels remain strong.
New Direct Transit Services to Regional Transport hubs
Dubbo
Townsville
Cairns
Maroochydore
Gold Coast
Mackay
Port Macquarie
Darwin
Toowoomba
If you are regularly sending freight into these regional transport areas, take advantage of these direct transit units by talking to one of our team about frequency and volume.