Mainfreight Uncovers Victoria's Secret
Posted on 28 March 2012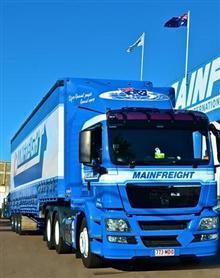 In response to the fast growing Victorian market, Mainfreight Melbourne has increased our presence in the state by despatching interstate vehicles from our new Campbellfield branch to facilitate customers' freight service needs on both sides of Melbourne. Combined with our branches in Clayton and our rural branches in Ballarat and Albury we are strategically positioned to service customers from every corner of Victoria, and consequently our customer's right across Australia.
Jordan James our Melbourne Transport Unit Co-Ordinator, proposes that Mainfreight "need to be coming up with new and efficient ways to service our customers' needs." Despatching freight from our Campbellfield branch, in Melbourne's Northern suburbs, means earlier freight departure times triggering earlier and more consistent arrival times in other states.
This movement does not only promote growth in the Western and Northern suburbs of Melbourne, but also frees up transport resources around our Clayton branch – to support growth in all areas of Victoria.
Jordan launched the freight initiative from Campbellfield in October, and has been despatching B-Double trailers daily ever since. Jordan notes "service to our customers is what keeps us in business, and we want to make sure that the service is at its best." With the daily linehaul now established, Jordan and his growing team in Campbellfield are working to add more transport services to the site.
Like to find out more about our new Campbellfield branch and how it can help you with your freight needs? Contact a Mainfreight executive.