Freman Web Update | September 2013
Posted on 27 September 2013
FremanWeb v2.1 - 10th September 2013
With great feedback from you our team have been working through changes to FremanWeb. We pride ourselves on making the pick up and delivery process for you as easy as possible.
This update featured mostly bug fixers and EDI enhancements but we have also improved the delivery book-in details screen and how the details are shown on your consignment notes. To gain access to these improvements contact your account manager to get this activated.
Require a delivery book-in but don't know when?
Simply choose Delivery BookIn as 'Required' when you create a new consignment note and our team will do the rest.

Want to save delivery book-in details for future deliveries going to a specific customer?
You now have the option to save book-in details against a saved receiver in FremanWeb. Click on the

icon next to the receiver name from the new consignment note screen, or go to Maintain>Receivers and update your receiver details from there.
You can select 'Required' only, or save a specific timeslot against the receiver if you have a regular time allocation confirmed with the distribution centre.
When sending a new consignment to that saved receiver, FremanWeb will auto-fill the Delivery BookIn fields with these details and upload the information to our team.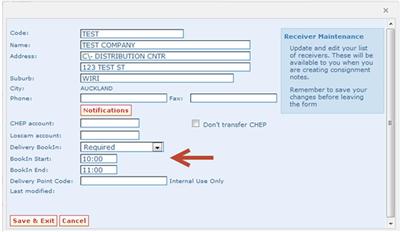 Have a book-in reference for the consignment in addition to your standard sender and receiver references?
A new book-in reference field has been added to the New Consignment Note screen in FremanWeb to help our customers with more than two references.
The new book-in reference field allows you to retain your standard sender and receiver references, and also provide a separate reference for the distribution centre or receiving inwards goods team handling your consignment.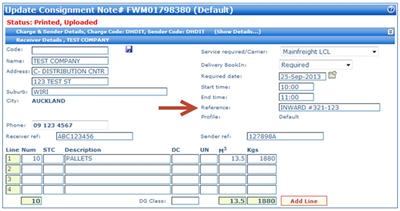 Where can you see the book-in details saved against a consignment?
Any book-in details entered in FremanWeb will now print on the top three lines of your consignment notes helping our team to instantly identify when your consignment must be delivered.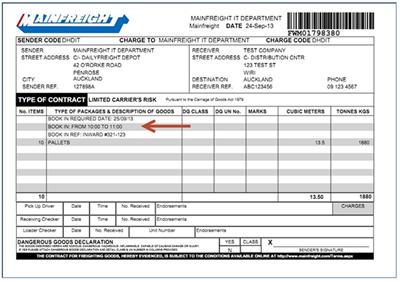 When tracking your consignments via Mainchain you will also see any consignment book-in details saved against a consignment including the book-in date, start and end times, and consignment references.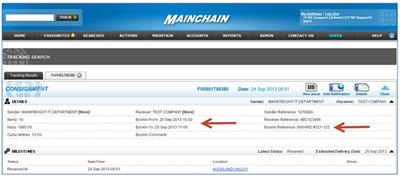 Feedback
Contact us mainchainsupport@mainfreight.com with feedback or ideas on how we can improve FremanWeb even more.