NZ Hot Rod profiles Mainfreight Automotive-Kiwishipping
Posted on 4 October 2012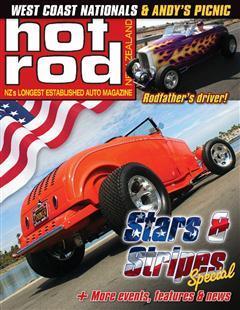 New Zealand Hot Rod Magazine's October's special 'Stars & Stripes' issue features a profile of our Mainfreight Automotive/Kiwishipping team based in California, assisting Kiwis & Aussies get their hands on classic American Cars, Bikes, Parts, and anything else you want to buy from the States.
In this special issue:
A full menu of events and features from across America in recognition of Kiwis' absolute embrace of American hot rod culture. It's a good thing and everywhere you go in New Zealand you'll not be far from a shed housing a special hot rod, muscle car or street machine which is the apple of its owner's eye. The very seeds for this hobby and the immense pride and joy it creates were sown in the USA back in the '30s before they blew to NZ on the wings of hot rod magazines in the '50s right through until today. So why not take time out to pay tribute to and celebrate the birthplace where it all began.

One of the companies striving for excellence and great service to Kiwis is Kiwi Shipping who're based in LA. Steve Curle and his team do a great job in searching, finding, checking and shipping of parts and cars from the US back to NZ as well as Australia and Europe.
Get your hands on a copy now and check us out on page 48. Then start day-dreaming about what you're going to buy now that you know how easy it is to get it home.
New Zealand Hot Rod Stars & Stripes Special print edition is in stores now and available to buy from the NZ Hot Rod website
The digital edition for iOS, Android & Desktop is available through Zinio