More Dashboard and Technology Changes in Mainchain 4.11
Posted on 10 March 2015
Continuing the improvements from the previous version, there are further technology changes on the dashboard widgets in this release to make them faster and even more powerful. Search performance has been improved as well as the speed of pages that use grids.
Take a look at what we've added below:
Loading
A new feature has been added to all widgets called Loading. This gives you the option to choose the best way to batch up search results for a faster performance. Every widget and company is different, so the best option will depend on how many or few search results there are. You will soon find what works best for your company.

These are what the three different options do:
AUTO – the widget will check the last query that was run in it, then determine whether to use MULTI or SINGLE batching
MULTI – the widget will batch up search results in chunks. These will be specific to the widget and will display results as they come in. The progress bar will display progress accordingly

SINGLE – the widget will not use any batching and will bring back results all at once. You will not see any items until all have been downloaded. The progress bar will start at 50% to indicate that a search is being run then jump to 100%.

Consignment Note Widget
Another filter has been added so you can search for consignments that are either delivered or that are still in-transit, or show all consignments.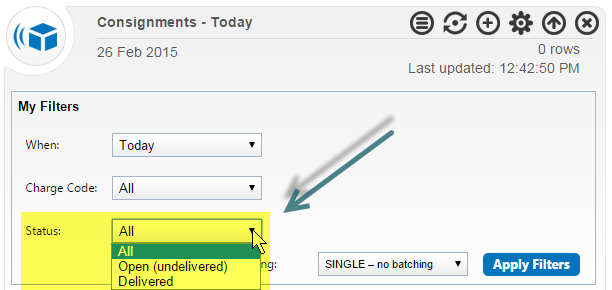 Highlighting when Status Changes
This is designed to improve the user experience by highlighting changes in status of items in the widget, drawing attention to those items.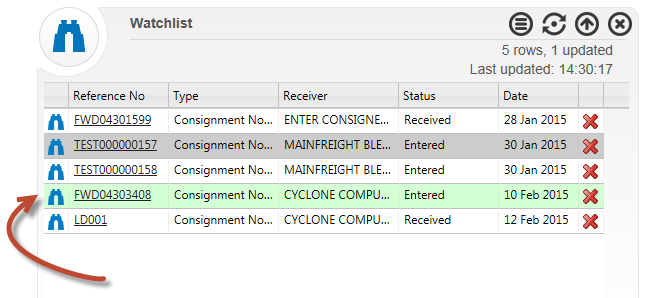 Widget Placement Guide
Highlighting the widget box area and displaying the text "Drag and drop widget here" will make adding widgets even easier. This improvement will show exactly where the widget will be placed on the dashboard when clicking and dragging it.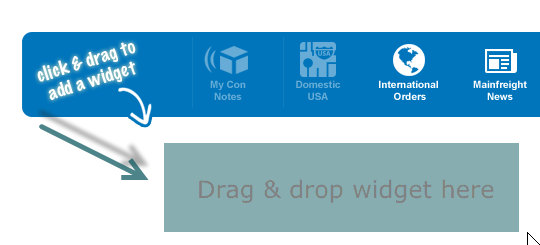 Discontinuing IE8 Support
Our aim is for you to receive the best experience from Mainchain, using the latest technology. Unfortunately older browsers do not facilitate this technology. As a consequence, from this release onwards we will be withdrawing support for Internet Explorer browser version 8.
We encourage any users currently using this browser to upgrade by clicking on the link on the Mainchain banner. If this is not possible, you will need to contact your I.T. department or provider.