Monkey Business!
Posted on 3 December 2012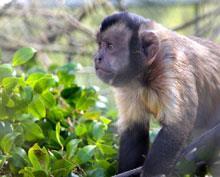 You trust Mainfreight to move your products there safely. Franklin Zoo trusts Mainfreight to move their primates. This precious cargo was entrusted into Mainfreight Air and Ocean's Perishables team to export 12 Capuchin Monkeys from Franklin Zoo to Mogo Zoo in Sydney.
It was a very busy day for all concerned. Auckland Zoo team assisted the Franklin Zoo team to catch the monkeys and complete their final health checks before they were placed into their custom built cages to commence their journey.
Monkeying Around
Mainfreight's truck arrived at the zoo at 3pm and the cages were carefully loaded onto the truck, safely secured and off to Auckland International Airport. Upon arrival at the airport Mainfreight team members met the truck and the cages were gently loaded onto the airline units ready for export.
T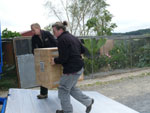 hroughout their journey to their new home the monkeys were carefully monitored by the zoo team and given water when required. At 7:30pm they were loaded onto the aircraft and at 7:45pm the plane was on its way to Sydney.
The monkeys arrived safely into Sydney at 9:15pm. Within 30 minutes of arriving they were unloaded and on their way to Mogo Zoo located some 298km from Sydney. Travelling with the monkeys was Sam White from Franklin Zoo. Sam will be staying for a week in Sydney to settle the monkey's into their new home.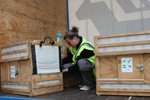 This movement of this precious cargo was a team effort. Franklin Zoo commented"Franklin Zoo Charitable Trust would like to thank Mogo Zoo, Auckland Zoo, Mainfreight and Tasman Cargo for helping to give Dr Helen Schofield's beloved capuchin monkeys a new home and providing them with a bright future, a wonderful new habitat and an excellent skill base to look after their welfare needs. The Trust is so very grateful that this family of 12 monkeys will be very well taken care of in their new home."