Metalsa Outstanding Service Award 2013 | Mainfreight
Posted on 28 March 2014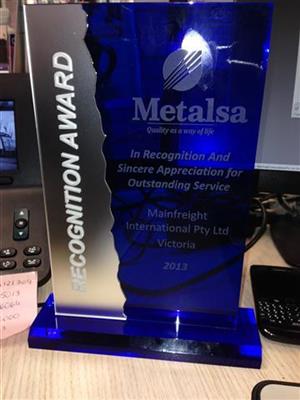 Mainfreight has been recognised for service excellence by being awarded with the Metalsa Australia 2013 Sincere Appreciation for Outstanding Service. We are very proud to be the recipient of this award.
Metalsa Australia is the automotive manufacturing centre of choice in Australia with a strong focus on precision world class parts and value added assemblies.
Our partnership with Metalsa has stemmed from our Air and Ocean capabilities in our Melbourne branch and we are looking forward to continuing our growing relationship with Metalsa.
This it is a huge compliment to each and every team member throughout Australia and our team right around the world. We would like to Thank Metalsa Australia for the recognition.