Mainfreight Canada –Toronto, ON
Posted on 12 November 2012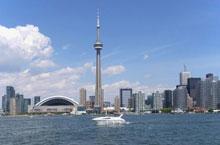 Our newest branch located in Burlington, Ontario has now been open for a month and the team led by Paul Taylor, Branch Manager, are going gangbusters!
With their many years of experience in logistics, supply chain, customs brokerage and freight forwarding Paul and the team provide simple and customized partnership solutions for our customers in Canada and globally across Europe, North America, Asia and Australasia.
Paul comments "with our size and global scope we are perfectly positioned to be able to show the industry in Canada what it means to exceed our customer's expectations" and with the recent addition of Joanne Venman to the team, we are looking forward to continued growth of our market and our footprint in Canada. With a total population of 33.1 million, Canada is the world's second largest country by total area.
The unified platform utilized by Mainfreight for our operations and customer interface is truly second to none, providing all of the information needed to manage a customer's cargo while allowing the customer a very simple and uncluttered screen with minimal data entry required. Customer's reactions have been very exciting as it provides a powerful yet compact tool that is far superior to many of our competitors.
Contact the Mainfreight Canada team.
Here at Mainfreight we aim to be a 100 Year Company, and when does that start? Today. Every day. So you can expect to see more Mainfreight branches opening in more cities in more countries around the world. Watch this space….