Full Truck Loads - Driving Efficiencies
Posted on 12 December 2014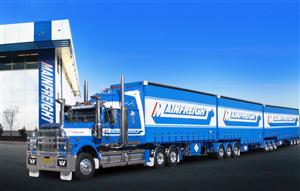 Leading into the busy freight season, if you have an increased volume of freight on the move, there are some significant efficiencies available when utilising our Full Truck Load service.
Mainfreight's dedicated Full Truck Load team are experts at sourcing and managing this service which can improve transit times, reduce freight handling and reduce costs. If you're looking to optimise freight requirements with regular FTL movements throughout the year or you are after a one off movement over your busy freight season, Mainfreight FTL have a range of options to ensure your freight moves in the most efficient way possible.
Whether you are after a direct delivery, multimodal transport, over dimensional load or even police escort, Mainfreight can combine configurations to deliver cost effective and reliable transport solutions. To save both time and money talk to our team for more information.