Freman Web Upgrade v1.7.16
Posted on 11 July 2011
Our application for New Zealand & Australian domestic freight customers, FremanWeb, has just had an upgrade. This new version (1.7.16) brings additional printing options allowing you to select a different default printer for each document type if required. We're happy to be able to include this often requested feature for customers using the 'remember my preferred printer options'.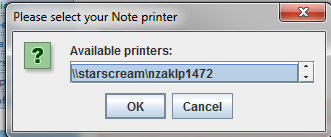 To set your new printing options you'll be given the choice to change your selected printers the first time you print after the upgrade. - If you don't want to change just click OK to choose your default printer.
This update also brings a longer timeout period, a number of bug fixes for Firefox users and changes to the printing dialogues and selection controls.
We're just starting work on the next set of changes and there's going to be even more customer requested features in what might be the biggest update of the year so far.
If you'd like to find out more about FremanWeb and how it can help you with your Freight Management needs please contact your Account Manager, your local Branch, or email freman@mainfreight.co.nz