Extending a helping hand to communities in Fiji
Posted on 25 February 2013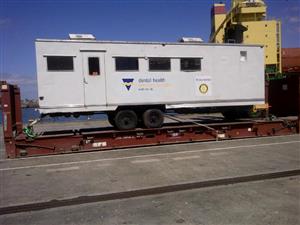 Do you remember as a kid in primary school when the dental van would come and visit each school? Each child getting their teeth checked and cleaned.
Almost 40% of Fijians grow up with no electricity and no running water let alone dental care being delivered to their schools. The Rotary of Geelong wanted to change this and came up with a great new initiative to achieve this. Buying an ex country Victorian primary school van, Geelong Rotary filled the van with disposable dental and medical supplies including face masks and gloves and donated it all to the people of Fiji.
Geelong Rotary now needed to get the van over to Fiji and came to Mainfreight to facilitate. As our network includes the Trans-Tasman trade lane and Pacific Islands we were able to ship the dental van and organise the customs documentation process.
In conjunction with the Geelong Rotary, William and Gosling in Fiji, the University of Fiji in Suva and Mainfreight, the van will be in service to the communities in Fiji as early as April. The dental unit will travel around the villages of Lautoka and central Fiji, providing much needed community dental care to areas where the cost of dental is prohibitive for the local population.
Find out about our services to the Pacific Islands or more about the Rotary Club of Geelong or the University of Fiji.