Encountering Our Australian Mainfreight Graduate Program
Posted on 9 March 2012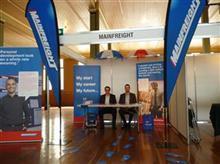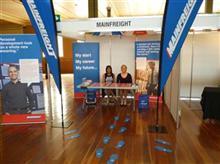 Our Training and Development team were on hand at the Melbourne RMIT Career Expo. Students from RMIT were able to talk to our team and discover more about our Mainfreight Graduate Program.
Our Graduate Program Co-Ordinator Gabrielle Fage is currently travelling around to University Career Expos looking for graduates who have a specific career in mind or open to discovering careers you never even thought possible.
Mainfreights Graduate Program is the place to discover a world of opportunities, to be part of a global team and to realise potential. A Mainfreight career is not just about working; our graduate program aims to attract, develop and retain graduates who are committed to real life learning, understanding the business from the ground up and joining our culture. Fresh off her recent trip to Auckland, Gabrielle notes that "travelling the world doesn't need to start with a letter of resignation," with our International Exchange Program and over 120 branches across Asia, Australia, Europe, New Zealand and the USA, we are committed to the progression of our global team.
If you are interested in learning more about our Mainfreight Graduate program be sure come say hi at your career expo or check out our Mainfreight Graduate Website.
Our Team will be at the following university talking to potential team members:
Griffith University, Brisbane – March 13th
Bond University, Gold Coast – March 15th
Deakin University, Melbourne – March 19th
Macquarie University, Sydney – March 21st