Delivered to a venue near you - ATM's are on the move!!!
Posted on 12 September 2011
Buying a beer at Eden Park? A wine at Waikato Stadium? A pie in Palmerston North? Mainfreight help make it possible!
If you live in New Zealand – or even if you don't – you can't help but be caught up in Cup Fever, the long-anticipated Rugby World Cup is here. The teams have arrived, the stadiums have been prepared and we're ready to go.
The team at Mainfreight are rugby fans too (well, most of us, and those who aren't have gone very, very quiet lately!) and we are always keen to get involved in anything rugby.
One of the more interesting things we have been doing is our Full Truck Load (FTL) team are moving, on behalf of ANZ Bank, three ten foot containers around the country which are mobile EFTPOS machines. These machines are run by diesel generators and will enable people to withdraw money on site at the games, just like any street machine. They are a striking blue with a bank of four money machines in each.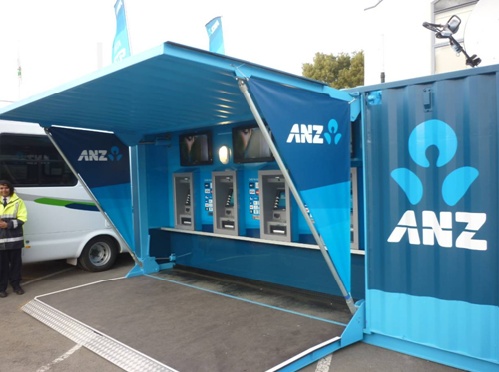 There are three containers, one will be used for the South Island, one for the lower North Island and one for Rotorua and North and they will be available from the New Zealand v's Tonga game on the 9th of September until the end of the RWC. They have been trialled at Hamilton's Mystery Creek and Palmerston North's Awapuni Races with great success.
Our ability to deliver this sort of technologically sensitive and expensive electronic freight means that rugby fans will be able to get their hands on their cash so they can spend up large at RWC venues around the country.
Should YOU have anything as challenging to move around as a roving ATM make your first – your only - call to Mainfreight.