American classic cars travelling New Zealand roads as temporary imports
Posted on 23 March 2018
Kiwi Shipping, our experts in international automotive shipments, have brought vehicles into New Zealand across from the USA for the Packard Rally 2018 and to display their cars at the Warbirds Over Wanaka International Airshow 2018. Warbird Over Wanaka is a biennial airshow held over Easter weekend. This year marks their 30th anniversary so the line up of the classic cars is going to be more special than ever.
All cars belong to the members of the Classic Car Club of America and the owners will be joining the Packard Rally 2018 to make a journey to their final destination, Wanaka. The Packard Rally left from Auckland and the group travelled through Napier, Wellington and Blenheim, where they will meet up with the New Zealand contingents for the final leg of the trip.
Once they arrive in Wanaka, the multi-million dollar line up of 50 Packards will be displayed in Warbirds Over Wanaka International Airshow 2018.
What key role did Kiwi Shipping play for this event?
5 vehicles were shipped from New York including 1936 V12 Cadillac Town Car and 12 from Los Angeles. The vehicles were moved in 40ft high cube containers (2 containers from New York and 6 from Los Angeles). Kiwi Shipping documented and photographed the condition of the vehicles on their arrival and vehicles were unpacked in Auckland.
Normally when goods come into New Zealand, GST is payable but as these vehicles are coming into the country and will be going back to the USA after the event, they were granted a temporary entry. Apart from an MPI inspection there is no other requirement for them to be driven on New Zealand road for temporary import.
After the event, our CFS team in Christchurch will control the repacking process for the vehicles to safely travel back to the USA.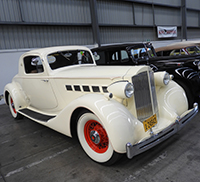 If you want to find out more about temporary import and moving automotive, talk to our team in Kiwi Shipping.