Mainfreight and Bairds Mainfreight Primary School 20th Anniversary
Posted on 13 March 2013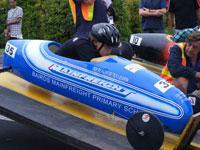 The 12th March 2013 is an auspicious day on the calendars of both Mainfreight and Bairds Mainfreight Primary School as it marks the 20th anniversary of our association.
This partnership began, as many momentous things do, thanks in part to serendipity when Carol Selwyn - Mainfreight founder Bruce Plested's PA - was looking for a nearby school which might be able utilise some spare softball equipment. Bairds Primary was both nearby and an early alphabetical entry in the phone book and this "happy accident" made them the lucky recipient. As it turned out Mainfreight kept the softball gear and sent a $1000 cheque instead that was used to buy sports uniforms.
Since this initial contact the school and the company have firmly bonded and are a model of how big business and the community can work together to achieve positive results. Their association has gone from strength to strength in the intervening years and more than $750,000 of support has seen ICT hardware and support, uniforms and sports equipment, books through the Duffy Books in Homes programme and even a fleet of soap box derby racers benefit the school and its pupils.
It hasn't all been one-way traffic though as in 1997 the school decided to recognise Mainfreight's contributions with a name change and became Bairds Mainfreight Primary School. To quote Bruce Plested -"Our firm belief is that education is the enemy of poverty. We want to show that New Zealand businesses can work with schools to provide opportunities that their children might not otherwise have. Our contribution to the school has been more than outweighed by the school's generosity in kind and spirit – they continually uplift Mainfreight and our team."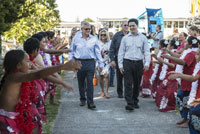 On the morning of the 12th March a special assembly was held at the school where the teachers, parents, past and present pupils and invited Mainfreight and other guests got together to celebrate this special partnership. It was a profound experience for all concerned. Reflecting the multitude of ethnicities represented at the school the guests were ushered into the packed hall with a pan-Pacific welcome, enthusiastically performed by the children. Those attending then viewed a fifteen minute DVD presentation which told of the close 20 year relationship between these two entities.
Over the next two hours they were treated to items from various cultural groups including Maori, Samoan and Tongan as well as a few numbers from the school's Sistema Aotearoa violin group. It was an assembly full of fun and song (and just a few speeches) that kept everyone entertained.
Kevin Drinkwater then announced that to celebrate their 20 year partnership Mainfreight has decided to extend its support beyond the classroom and offer assistance to children who have left the school. At any given time a pool of up to $27,000 in tertiary scholarships will be available to former pupils of the school.
In addition, up to $12,500 will be available to high school students who attended the school to ease the burden of school fees, uniforms and excursions. The scholarships are offered not only to help former pupils strive academically and socially after they leave the school, but also to reinforce that both the school and Mainfreight are committed to supporting their futures.
There are further benefits to be had from connecting the scholarship programme with a primary school as Bairds Mainfreight Primary's Principal; Alan Lyth states "We believe the Mainfreight partnership has enabled us to have a really positive effect on our pupils during the early years of their education. When they come to leave us they're faced with new environments which may not give them the same opportunities. These scholarships will help us keep in touch with, and continue supporting our pupils, long after they're gone." The establishment of the scholarship is a celebration of Mainfreight's commitment in the last 20 years and a confirmation of their commitment to an on-going relationship long into the future.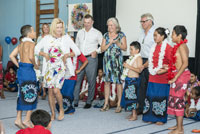 The final group to perform was from the Cook Islands and they proceeded to invite audience members up to dance. Many of the Mainfreight party including Bruce Plested, Carol Selwyn, Don Braid and Kevin Drinkwater managed to shake it with the best of them and perform for the assembly to show their appreciation to their hosts and the kids who had done their school so proud. The festivities came to a close with the blowing out of three candles on the 3 ginormous birthday cakes – 3 cakes and 3 candles representing Mainfreight's 35th birthday last week, Mainfreight/Bairds Primary's 20th birthday this week, and Bruce's 71st birthday later in the week!!
The past, the present and the future – add in a little serendipity and a "happy accident" may just be a recipe for a long standing and mutually fulfilling relationship.
Watch the full video