My Exchange Experience
Posted on 9 October 2013
An exchange experience of a lifetime!
Last year I was lucky enough to be selected to spend one year abroad as part of the new global exchange program between Wim Bosman in Europe and Mainfreight. I was based in the Netherlands in our Logistical hub in 's-Heerenberg on the border of Germany. It was a sensational experience on all levels, where I learnt to be a more accomplished team member of our global business and also develop on a personal level.
Starting My Uitwisselingsprogramma!!!
(Dutch for Exchange Program)
I still remember the day that the successful candidates were announced and I was selected for the opportunity of a lifetime.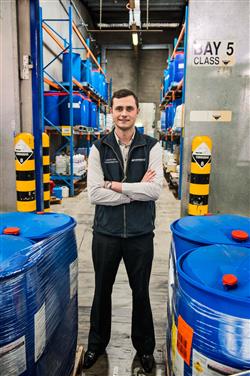 Initially, I didn't know what to expect and was overjoyed at being selected but also slightly nervous about the challenges that I would be facing in the near future. The support from both Mainfreight and Wim Bosman leading up to the day of my departure and during the entire year I spent abroad was exceptional and made the experience all the more enjoyable and educational.
I cannot even begin to describe the sheer amount of new opportunities I was given to develop my career inside our global company. In my first few days I was introduced to the local team members and what was immediately obvious was how friendly and inviting everyone was. I had the chance to spend the first few weeks experiencing all the departments of Wim Bosman's European operation based in 's-Heerenberg which included meetings and hands-on experience inside the day-to-day operation. I was even sent on a truck route with a Wim Bosman driver for an entire day!!
After the introductory period I had a basic understanding of how Wim Bosman operates in Europe and was ready to join the Logistics team. Throughout the year I was part of two new implementations at the 's-Heerenberg warehouse, one which I had a supporting role in and the second I had the chance to coordinate myself. I also spent a period of time as a Team Leader for a great team that looked after one of the growing customers for us in Europe. I was also part of the MTP (Management Trainee Program), which allowed me to collaborate and work with other trainees on projects from all over our European locations.
Spending twelve months working in Europe and having all the above positions that entailed a vast variety of different responsibilities and collaboration with new people, allowed me to learn new methods of warehousing and ways of adding value for customers in a completely different supply chain and logistical environment.
My Exchange Program - Experiencing Europe
Being based in the centre of Europe I was also able to travel and see many of the amazing sights in Europe. The balance of work and time to travel made the year seem like a working holiday. I was able to visit many countries over the twelve months including France, Germany, Spain, Belgium, Luxemburg, Serbia and Poland. The year flew by at an unbelievable pace and the entire experience was one that I will never forget. The exchange program not only taught me how to operate in different environments, experience different cultures and make new friends and contacts for life, but it also challenged me at every corner.
Implementing My Experience
I am ecstatic that I took the opportunity provided by Mainfreight and Wim Bosman and I encourage all our team members that meet the criteria to apply and take the challenge on. You will not regret it! I am privileged to have been an ambassador for this amazing program and I would like to thank everyone at Mainfreight and Wim Bosman that provided me support over the last 12 months and gave me the opportunity to learn and grow with our global company.