A Day In The Life of a Mainfreight Graduate
Posted on 19 July 2012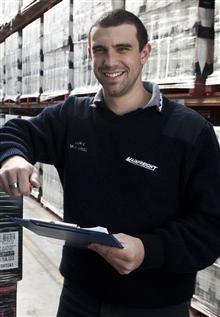 Meet Luke Van Meel, he's going take us all through a day in the life of a Mainfreight Logistics Graduate
Hi guys! I'm going to take you through a typical day for me in my logistics career. A lot of the terminology is pretty industry specific so feel free to jump on our Facebook page as we are constantly interacting through here and are more than happy to answer any queries you may have.
My role is Account Manager at Mainfreight Logistics in Somerton, VIC. It involves inventory management, order processing, return processing, logistic solutions and general customer services. I also do the P&L (profit and loss report which we run weekly), pay bills, morning pick up pallet dockets and other admin roles for the branch. You could say I do a bit of everything which is pretty indicative of a graduate role with Mainfreight. They definitely throw everything and anything at you!
I have been with Mainfreight for just over a year now entering through the Logistics Graduate Program. They say you learn the business from the floor up they aren't kidding! I spent the first 6 months of my logistics career picking and packing orders on the floor in the warehouse. I then moved into our inwards team, handling all incoming customer orders for just under a month. From there I moved into the office and took on a logistics account management role. My time spent on the warehouse floor has proven invaluable! Now when a customer comes to me with a challenge, my active knowledge of how our warehouse and logistics system works enables me to be proactive in finding a solution.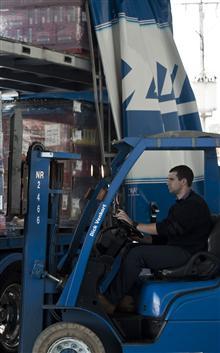 A day in the life........
A typical Monday begins at 7.00am, bright and early to allow time to complete the P&L (profit and loss reporting) for my customers. We run our P&L every single Monday as does every other Mainfreight branch around the world, we run these reports to make sure that we are improving on the year gone and heading in the right direction for the year ahead.
8am brings the rest of the team members in which coincides with the first receiving of orders for the day. I am usually pretty busy at my desk checking emails and flag the ones that need attention, but I make sure I say hi to everyone, in case they have bought me a coffee!
9am things have really kicked off! P&L reporting is in full swing, the logistics team are out finalising pallet counts, the second orders have arrived and our Mainfreight metro drivers are finalising their runs for the day. This usually is the time when stock rejections and returns are brought back and these need to be checked off by the account managers and booked back in through MIMS which stands for Mainfreight Inventory Management System. At Mainfreight all our software is created and developed by our in house IT team, MIMS is our fully integrated web based logistics software capable of making my logistics career run smoothly.
10am By this time interstate transfers of stock from our other warehouses have been received and are starting to be put away by the team. I can usually be found at my desk checking emails again. In my role as account manager I handle a portfolio of 7 major accounts and a handful of smaller accounts. My major accounts include a number of international alcohol and beverage producers and as there first point of contact at Mainfreight I'm constantly checking emails to stay on top of requests and issues.

11am although we are receiving orders throughout the day, 11am is when one of the largest takes place. Monday is usually the busiest day of the week for alcohol orders with stores wanting to restock after the weekend festivities.
12pm the guys are picking and checking orders off at a frantic rate and the last of the shuttle orders (local deliveries) has been finalised and are ready to be loaded. The P&L is finally ready to be sent off to our Australian Managers after being looked over by Hamish our Branch Manager. Usually always a profit
1pm is finalising of orders time. The team are picking orders thick and fast now and I am finalising all the local deliveries so that the invoices can be sent in by the customer.
2pm is the cut off for orders to be received. All of the inwards (incoming stock) has been put away and the paper work is being finalised. Our logistics warehouse is on the same site as our Training and Development Centre and I usually make sure I find time in my day to go over and hassle the team there and see if anyone has done some baking.
3pm we receive another set of orders from customers. These orders need to be checked to ensure that there are no urgent orders for delivery the next day that have missed cut off time of 2pm. This is also the time that I usually catch up on finalising outgoing orders and make sure I am up to date with emails.
4pm majority of orders have been picked, and it's my turn to go out and check off orders as the team finish the last of the orders for the next day. It's all in at this stage with every team member jumping outside to help the storemen check off orders.
5pm all the orders have been finalised and the local connotes are being matched up. This is also the time the debit notes are sent.
What's missing from my timeline is all the practical jokes and laughs that go on throughout the day. Our site is pull of practical jokers and no one can ever be truly safe from the potential prank!
Monday is definitely our busiest day, with our team juggling the P&L as well as the influx of orders from stores wanting to restock after the weekend shopping rush. I find it sets a good tone and gets my blood moving for the rest of the week ahead. I am really enjoying my current role as account manager, and look forward to my next challenge as I move through all the different areas that Mainfreight offer. You can never really know where the next step in a logistics career with Mainfreight, but with our large scope of operations I really do see the world as my playground.
If you are thinking about applying for the Graduate program I highly recommend it. Not only has it been the perfect way to start my logistics career, but I am loving being able to take each challenge as it comes.
Interested in finding out more about a logistics career with Mainfreight? Check out our logistics graduate program website or send us an email at careers@mainfreight.com.au