Moorebank Pick and Pack
Posted on 14 March 2013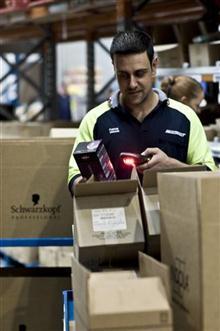 Specialising in niche picking at unit level, our Moorebank facility is proficient in retail warehousing and manage your products by offering flexibility, accuracy and complete transparency.
Flexible order fulfilment options including break down of pallet, picking individual items, building packs or tailored orders to meet streamline your supply chain.
Pick and Pack Technology
Our technology ensures complete and accurate order fulfilment, we utilise RF scanning to capture inbound traffic, stock control, replenishment and outbound traffic to consolidate product more effectively and mange case, unit and pallet picking faster and more efficiently.
Scan pack services ensure products are processed and labelled to meet the EDI and scanning requirements of large distribution centres.
Safety stock levels and purchase pre alerts ensure full transparency of your products and ensure you never run out of stock.
Location, Location, Location
Comprised of 8,500m2 of warehousing space, additional 14,000m2 space including bulk storage, hard stand space and multiple loading docks for efficiency when loading and unloading.
Dangerous Goods compliant and fitted with fire protection sprinkler system.
Food grade complaint with the highest of national health and safety requirements.
Purposely located close to major distribution centres, our Moorebank branch is situated next to the M5 for great access east to west and within 5 kilometres to the M7.
Find out more information about our Pick and Pack services, contact our team at Moorebank who can discuss any enquiry.