Mt Everest Marathon Success
Posted on 6 December 2011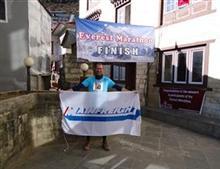 On Friday December 2nd 2011 while we were all enjoying an after work drink, Mainfreight Australia's National Logistics Manager, René Van Houtum was undertaking a run of a lifetime – the Mt Everest Marathon. The Everest event is listed in the Guinness Book of Records as the highest marathon in the world.
René has spent 6 months training for this race, although he admitted before leaving that "there is no way to prepare for the altitude that I will be experiencing, but I have trekked in these conditions before and believe I will be fine."
To acclimatise naturally to the high altitude René joined other participants in a 17 day trek to the Mt Everest Base Camp, the starting place for the race.
The Everest marathon takes place on snow, ice, rocks and all other conceivable types of surface; René completed the 42km race in 7 hours and 46 minutes, relaying that "good work takes some time."
Mr. Van Houtum has recently joined us at Mainfreight Australia as National Logistics Manager based in Melbourne, after having the opportunity to relocate from our European division the Wim Bosman group where he was Logistics Manager of the Belgium operations. Mainfreight acquired the Wim Bosman group earlier in 2011 and has successfully growing our European presence since. A well-established transport and logistics business, Wim Bosman offers local contact and peace of mind when dealing in Europe, creating the opportunity for Mainfreight's customers to experience a seamless transition into one logistics network. If you are importing or exporting cargo to or from Europe, you now have access to Mainfreight at both ends of the supply chain.