Mainfreight expands by opening a warehouse in Born The Netherlands
Posted on 21 June 2018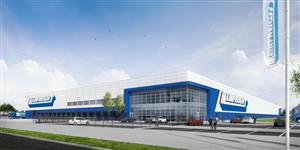 Mainfreight is excited to announce the opening of our new warehouse in Born, The Netherlands.
The opening of our new warehouse in Born sees our European expansion continue. This facility has a total size of 26,000 m2. Out of this BREEAM Very Good warehouse, a wide range of services will be provided for existing and new customers: as well as tailor-made in- and outbound processes and best-in-class storage, various value-adding activities will be performed, such as technical quality control, extensive return processes and transport management.
Due to its strategic location next to the barge terminal, Mainfreight will also offer multimodal supply chain solutions. Quick access to the motor highway (A2), accessibility to the Chemelot site and proximity to our recently completed cross-dock in Genk, gives us the opportunity to improve service levels for existing customers and to provide extensive end–to-end European distribution services for customers considering Born as a distribution hub. This is an exciting step for Mainfreight as we continue to develop and intensify our network in the European Region.
For more information regarding to this new warehouse or our services, please contact Mr. Rob Zonneveld, Branch Manager, via email rob.zonneveld@nl.mainfreight.com or call +31 (0)314 671 740.