Mainfreight becomes second tenant of WDPort of Ghent Belgium
Posted on 15 March 2017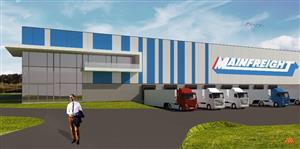 Logistics service provider Mainfreight is further expanding its current warehousing activities in Belgium at the WDPort of Ghent. This new lease was announced on the occasion of the Belgian Pavilion Event of the Port of Ghent at MIPIM. WDP's second project at this location involves 30,000 m², of which Mainfreight, in a first phase, shall occupy a distribution centre of approximately 9,000 m². Completion of this new construction project is projected during the course of the third quarter of 2017. The Ghent Port Company is delighted with this continued development in the Port of Ghent.
WDPort of Ghent welcomes new tenant
The multimodal features of the WDP location on the Kluizendok in the Port of Ghent are once again highlighted by the rental of a distribution centre to be developed in the immediate vicinity of the WDP new storage facility that was completed in March 2016. Logistics service provider Mainfreight will move into a newly completed 9,000 m² warehouse in the course of the third quarter of 2017. The plot allows for the possibility of building a new storage facility for a total area of 30,000 m². This way, Mainfreight is expanding its current storage capacity in Belgium to 105,000 m². In addition to existing sites for logistics and distribution activities in Oostende and Genk and offices for air and sea freight activities in Brussels and Antwerp, Mainfreight will organise logistics, distribution and added-value activities in Ghent.
Logistic property of the future at the WDPort of Ghent
The logistic property that WDP is offering at this location can rely on the unique features of the Port of Ghent as a multimodal port. Its close vicinity to water with access to the sea and inland waterways, roads (E17 and E40) and rail ensure efficient access to all corners of Europe. Thus here, as well, WDP can offer its tenants an extensive multimodal flexibility. After completion of the new distribution warehouse for Mainfreight, the WDPort of Ghent offers an additional ground potential for the future of over 130,000 m².
About Mainfreight
The Mainfreight Group is a 3PL+ service provider with a strong global network for customer-specific and preferably integrated warehousing, transport and distribution solutions. The Mainfreight Group has 28 business locations within Europe spread throughout nine countries.
Liane Philipsen, Sales Director of Mainfreight: "This project demonstrates our ambition for the Belgian market. We can now offer customers more options."
Joost Uwents, CEO of WDP: "This expansion emphasises the strong features of this multimodal logistics park in the Port of Ghent."
Daan Schalck, CEO Ghent Port Company: "This investment once again confirms the diversification of the Port of Ghent."