Holidays Announcement | Chinese New Year 2019
Posted on 23 January 2019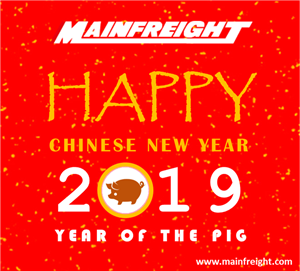 2019 Chinese New Year is coming soon, please be advised of our Mainfreight Asia operating hours over Chinese New Year period.
• 2-10th Feb, Vietnam CLOSED
• 4-10th Feb, China CLOSED
• 4-8th Feb, Taiwan CLOSED
• 5-6th Feb, Malaysia & Singapore CLOSED
• 5-7th Feb, Hong Kong CLOSED
* Normal working - Japan & Thailand team
Here is some public Holidays of Asia team in February.
• 11th Feb, National Foundation Day - Japan CLOSED
• 19th Feb, Makha Bucha Day - Thailand CLOSED
• 28th Feb, 228 Peace Memorial Day - Taiwan CLOSED
As China returns to work there will be a week or two of congestion and space issues at most entry and exit ports. Activities in relation to space and rates should normalise near mid of February.
We appreciate your patience during this time and please be assured that our teams around the world remain focused on delivering the best possible service. If you have any questions please contact your customer service representative.