Congestion at Los Angeles Ports | September 2014
Posted on 23 September 2014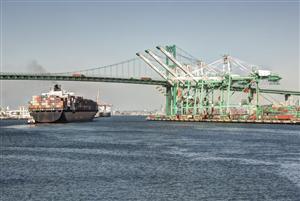 Updated 29/10/2014 | Port Congestion Throughout North America
We are seeing services in and out of North American Ports worsen as the continual congestion and backlog of containers needing to be loaded takes effect. The source of the situation is a combination of:
Peak season
Shortage of shipping line equipment (chassis)
Construction at Port of Los Angeles
Large new vessels calling ports incurring additional unloading times
Great explanation by Bill Mongelluzzo from JOC on the topic:
Updated 15/10/2014 | Port Congestion Throughout North America
This situation has extended and is experienced throughout North America leading to increased pressure in key hubs.
The congestion is having a roll on effect and vessels are being overbooked with the backlog of containers needing to be loaded.
As shipping lines navigate through these challenges we are seeing vessel sailings being delayed.
We are expecting this congestion to ease over the next month but with the onset of the peak season we advise you to please place your bookings as early as possible.
Congestion at Los Angeles Ports | September 2014
The Los Angeles Ports are experiencing heavy congestion causing delivery challenges in and out of the ports. The source of the congestion has been the onset of the peak season, the launch of the G6 consortium and the ongoing construction at the Los Angeles / Long Beach ports.
As a result there has been:
Vessel sailings being delayed approx. 3 – 4 days
The terminal operation hours have been revised which is limiting pick up windows
The reduction of shipping line are also being experienced in many parts of the USA not just in the Los Angeles leading to congestion in key hubs.
We are working with the ports to ensure we navigate through these challenges, but in the meantime please place your bookings as early as possible so we can book timeslots effectively.
It may be worthwhile directing your cargo to alternative ports, contact our experienced and knowledgeable team to discuss options.
We appreciate your patience during this time and will be updating this page with any developments as it comes to hand. Should you have any queries or require additional insight, please call our team at any time.