Mainfreight and Outward Bound NZ Custom Programme
Posted on 10 April 2012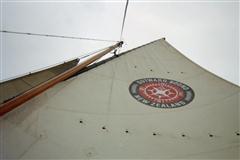 Recently 14 enthusiastic, motivated Mainfreight team members from China, The Netherlands, USA, Australia and New Zealand were selected to attend the Mainfreight Outward Bound NZ Custom Programme. This lucky group of people were selected to attend the 10th anniversary of Mainfreight's Custom Program at Outward Bound in Anakiwa, who are also celebrating 50 years of Outward Bound in New Zealand.
Ten years ago Mainfreight was looking to begin a leadership programme to ensure team members with great potential and attitudes received some personal development to assist their future careers. Outward Bound was chosen as the ideal venue as the courses encouraged self-reflection and self-awareness along with awareness of others as the building blocks for character development. The mix of outdoor challenges, classroom lectures and communal living with team members created an environment for amazing learning opportunities and challenges to self-limiting beliefs.
What does Mainfreight get out of sending Team to Outward Bound?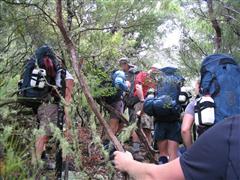 There was no requirement by Mainfreight for there to be a measured outcome with each participant. The belief was that if each team member gained greater personal awareness they would return the investment by becoming better leaders for the future.
Mainfreight values our "anything is possible" culture and believes that reinvestment in our people will result in improvement in service.
This is a very prestigious course and to be selected is a special honour with 5,000 plus team members within Mainfreight, and there is only space for 14 in each group. The only criteria for selection is your potential – whether you joined Mainfreight as part of the Graduate program, or answering phones or sweeping floors straight out of school, or some other path, the opportunities are there for the taking.
Each new group represents the new generation of leaders for growing our business, and the latest group were certainly no exception. With divisions and regions represented from transport, logistics and international to IT, it goes to show the career opportunities within Mainfreight and our commitment to career development is endless.
What do Mainfreight Team get out of the Outward Bound Experience?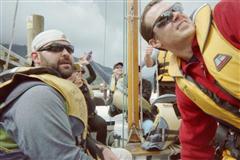 The eight day course is very intensive, with both physical and classroom activities packed in to the point where even in hindsight you can't really believe how much you did. The 14 team members come out having faced fears, learned new skills, held each other's lives in their hands, and with an amazingly expanded appreciation of their own potential. During each course the team members have bonded while forming lifelong friendships and life changing knowledge and attitudes.
Michael Hood, our Australian IT Manager was one of our new and enthusiastic team members ten years ago in our first group. Mike says "for me the Outward Bound experience was invaluable, from what you learned on the course through to the connections you made with other Mainfreight team members that would work for the company for years to come.
Back then we were all a bunch of newbies to the company, and that team now hold varying positions in many countries throughout the Mainfreight world. It's great to know you still have that connection and those relationships that you can call on for help at any time. It was such a valuable experience and I'm thankful and grateful to have been a part of it."
Mainfreight's next lucky 14 participants have been chosen and are gearing up for our next course in May.
Find out more about Outward Bound