Mainfreighters Participate in the Boston Marathon
Posted on 15 May 2017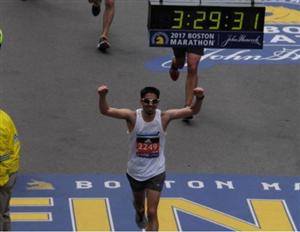 Mainfreight USA is very proud of its IT team member, Erik Ohler and Matthew Russell from San Francisco who ran in the 2017 Boston Marathon on Monday, April 17th!
Boston Marathon is a race that must be qualified for to limit the field size to 30,000 official entrants. To qualify, a runner must first complete a standard marathon course certified by a national governing body affiliated with the International Association of Athletics Federations within a certain period of time before the date of the desired Boston Marathon. The event attracts approx. 500,000 spectators each year, making it New England's most widely viewed sporting event.
Erik has been an avid runner since high school and has been working up to Boston. He had qualified in years past but due to schedule conflicts was never able to get into Boston for this race. Erik qualified for Boston this go around with a time of 2 hours and 55 minutes and wasted no time in turning in his registration fee. Erik was nursing a bit of an injury but was still able to finish the race with a time of 3 hours 29 minutes.
Matthew Russell has qualified for the Boston Marathon twice running his best time in 2 hours 48 minutes and 33 seconds! Matthew finished with an official time of 2 hours 59 minutes and 15 seconds despite 75-degree humid weather.
Congratulations to both for their accomplishment and crossing an item off their bucket list!