Stink Bugs force fumigation regulations from USA to AUS/NZ | August 2015
Posted on 4 August 2015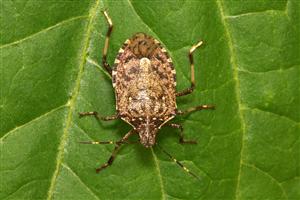 On the back of the emergency measures put into place earlier this year, the Department of Agriculture have released new regulations ahead of the upcoming 2015/2016 Stink Bug risk.
Under the new rules, all importation of break bulk and FCL targeted goods (listed below under applicable tariff headings) shipped from the United States must be heat treated or fumigated before being shipped to Australia and New Zealand.
What are Stink Bugs?
The Brown Marmorated Stink Bug (BMSB) is an exotic pest of biosecurity concern to Australia's and New Zealand's agriculture industry as they feed on and severely damage fruit and crops.
When does this come into effect?
From 1st September 2015 to 30th April 2016.
If you are exporting from the US your cargo must be:
Treated prior to shipping
Accompanied by a certification of efficacy outlining the treatment completed
Your cargo will be subject to on-arrival inspection as determined by the department
From 1st Sept 2015, all USED goods in below targeted tariff heading need to be cleaned and treated immediately prior to shipping to Australia arriving on or before 30th April 2016.
All NEW goods in targeted below tariff headings manufactured and stored between 1st Sept 2015 and 1st December 2015 require offshore treatment unless subject to alternative safeguarding arrangements approved by Quarantine (see DA website for further details on safeguard measures) before arriving on or before 30th April 2016.
All NEW manufactures and stored targeted goods after 1st December 2015 and arriving on or before 30th April 2016, require a consignment specific manufacturers new and unused and not field tested declaration, which includes the date and place of manufacture.
Applicable tariffs heading for stink bug regulations
| | | |
| --- | --- | --- |
| Chapter | Tariff | Description of heading |
| 84 | 8429 | Bulldozers, graders, road rollers, tampers etc. |
| | 8430 | Other moving ,grading, leveling, excavating equipment |
| | 8432 | Ploughs and agricultural soil preparation machinery |
| | 8433 | Harvesting, threshing or agricultural machinery , not food processing |
| | 8436.80.10 | Tree fellers , tree harvesters |
| 87 | 8701 | Tractors, not work trucks |
| | 8702 | Buses, minibuses, coaches, >=10 passengers |
| | 8703 | Motor cars and other motor vehicles, < 10 passengers |
| | 8704 | Motor Vehicles for the transport of goods |
| | 8705 | Special purpose motor vehicles, non-passenger |
| | 8707 | Bodies for motor vehicles, all types |
| | 8716 | Trailers and semi- trailers , other vehicles , no engine |
| 89 | all headings | SHIPS, BOATS AND FLOATING STRUCTURES |
Acceptable pre-shipment treatments:
Heat (50 degrees Celsius) for 20 minutes in the coldest location of the cargo
Methyl bromide (16g/m3 for 12 hours or longer with an end point reading of 50% or more of the initial concentration at a temperature of 15 degrees Celsius)
Sulfuryl fluoride (at least 48g/m3 for 6 hours or longer or at least 16g/m3 for 12 hours or longer with and end point reading of 50% or more of the initial concentration and conducted at a temperature of 10 degrees Celsius)
Treatment time before loading
Break-bulk goods treated before 1st December will have a 96 hour treatment window
Break-bulk goods treated after 1st December are unlikely to become re-infested , so will not be subject to a treatment window
Containerised goods sealed after treatment and arriving seals intact will not be subject to a treatment window
Mainfreight in conjunction with our preferred fumigators are working on special rates for break-bulk and FCLs arriving for collection from wharf and straight to fumigation facility for fumigation to speed up delay time once goods arrive if not pre-treated or treatment insufficient or infestation found.
Should you have any queries or require additional insight, please call your licensed customs broker or Mainfreight account