Small Business Opportunity - Spotlight On Our Owner Drivers
Posted on 27 July 2012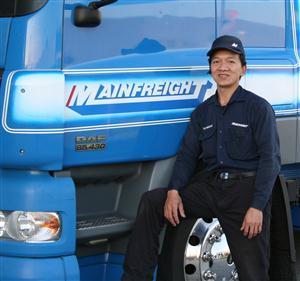 Mainfreight have a transport fleet manned exclusively by small business owners, who themselves drive the trucks. Our best owner drivers have the skills to be a good business owners. They look after our customers, the freight and their equipment.
As our owner drivers own their truck which in itself it their small business we have a low turnover of drivers and therefore our drivers have a world of experience. Our customers benefit from having consistent drivers coming to their businesses to pick up and deliver freight. Our owner drivers are part of a global team that is committed to driving improvement in our customers supply chain experience.
Getting To Know Your Owner Driver - 5 minutes with Tony Ng
How did you become a Mainfreight Owner Driver?
My brother was already working at Mainfreight as an owner driver and was constantly talking about the great environment and small business opportunities at Mainfreight. To own a small business with the financial security of a bigger business was a business opportunity I wanted to take. About 4 years ago I bought my first truck and joined my brother here at Clayton.
So being an owner driver really is a small business opportunity, isn't it?
Yes. About 3 months into owning my truck, Glenn (Melbourne Branch Manager) suggested the business opportunity to do a permanent run in the Northern suburbs of Melbourne. This meant adding a trailer to my truck (turning a semi into a b-double), which means a lot more freight, which means a bigger business opportunity.
What do you need to prepare and take advantage of this small business opportunity?
Well, a truck. You need to like driving and be a good driver. You also need an accountant. There are no franchise fees when becoming a Mainfreight owner driver, but you are setting up your own small business as an independent contractor, so it is important to get advice from an accountant.
Mainfreight promote the ongoing training and development of our team members, as an owner driver and small business owner have you seen this to be true?
Yes, I have my forklift licence which means I can help load and unload my own truck, we have been given a lot of training at the training centre and when the team come and see us at the depot.
I have been told that you arrive with a can of coke and a smile for everyone.
(Laughs) My truck came with a refrigerator so I keep it stocked with cokes; it is a great way to show my appreciation when needed. The smile just comes with my personality. I do the same run every day to Thomastown, Somerton, and Campbellfield, it is the same people, and you get to know the customers so it is easy to give them a smile.
What is the culture like at Mainfreight?
I get to see my brother every day, so it's great. Every morning and every afternoon all the owner drivers are at the depot together. As all owner drivers are their own small business, we are all in a similar position and have a lot in common, there is a great many people to hand out cokes to.
Have you ever needed to change one of your B-Double trailer tyres?
No. (Laughs) But it is my worst nightmare.
A Small Business Oppotunity for Owner Drivers
Many of our owner drivers have never driven commercially before. We have men and women and a number of husband and wife teams. Interested in finding our more about our small business opportunity? Visit our owner driver page here, or contact your nearest branch, and we will be discuss any of your small business opportunity.