Rena Grounding shows Importance of Cargo Insurance
Posted on 1 December 2011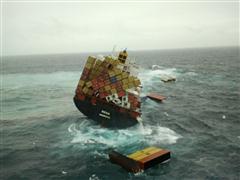 Almost all seafreight (and airfreight) shipments arrive at their destinations every day without an issue, and it is easy to think that insurance is an unnecessary, costly and complicated burden to your business. However, the grounding of the m/v Rena near the port of Tauranga has served as a timely reminder of the importance of insuring your cargo if the unexpected does happen.
As the owners of m/v Rena cargo are being advised to contact their insurance companies, consider for a moment those shippers with cargo on-board the m/v Rena who did not take the precaution of arranging insurance. They may lose all or part of the value of their export goods through damage or outright loss, in addition to the cost of re-producing the goods, or the commercial loss suffered through the inability to fulfil the purchaser's order. In the event they are fortunate enough to have their goods salvaged without damage, a shipper without insurance still risks losses through a potential declaration of General Average, a complicated insurance calculation which apportions the loss suffered by shippers and the vessel owner against all other cargo owners who have not suffered any such loss.
Virtually every marine cargo policy covers the risks associated with General Average, while many policies can be tailored to reflect the individual requirements of an exporter. These can range from basic protection against loss of goods through to more comprehensive policies which protect against loss of sales and provide for goods to be shipped as replacements.
Most commercial insurers are able to offer global marine insurance as part of their policy package when insuring your other business interests. In the event that an exporter is shipping infrequently and the cost of an annual policy cannot be justified, Mainfreight International is able to offer marine insurance on a shipment-by-shipment basis. Just ask our customer service or sales team when arranging your next shipment, and they will be happy to help out.
Please contact your local Mainfreight International office for further information.
- Image credit: Maritime New Zealand