Ready Fire Aim The Mainfreight Story by Keith Davies
Posted on 14 August 2013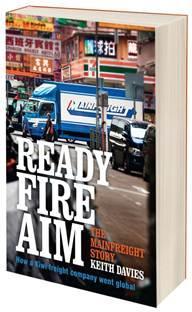 Ready, Fire, Aim: The Mainfreight Story is a book by Keith Davies, published by Random House - August 16 2013.
This is a warts and all telling of Mainfreight's rise from humble beginnings in the highly regulated New Zealand of 1978, to becoming the global supply chain network we are today.
Keith Davies is a former high-profile television current-affairs journalist who now specializes in writing company histories, including one of Fisher & Paykel. For Keith, this journey started over ten years earlier when he was commissioned to write an in-house publication to celebrate Mainfreight's 25th anniversary.
This initial work, titled With Passion Anything is Possible - Mainfreight: An Insight was a gift to every team member at the time, and has since been given to every new team member on their induction. This book was invaluable as, apart from sharing some of the more colourful antics from our past, it more importantly revealed how key aspects of our culture developed through the events that shaped it.
After this initial exposure to Mainfreight, Keith has returned ten years on to trace our ever expanding presence in both Australia and Asia along with major acquisitions in the United States and Europe.
The decade since With Passion... has seen Mainfreight grow from a predominantly New Zealand company with a few offshore operations into a truly global business with distinct localised versions of the Mainfreight culture that is so important to our success. But the view the media most often presented was that of "a New Zealand Trucking Company". It was this gap between reality and perception that Keith identified and which publishers Random House seized on.
So, for a second time, Keith set off interviewing team members from around the world. The most surprising thing for him about the process was how the distinct Mainfreight culture has been adopted as their own by our new worldwide community. And, as might be expected, he found the team accommodating with no hesitancy to talk. "Its the lovely thing about Mainfreight; everyone is so open, frank and transparent compared to other companies"
Having a book published about us is exciting, and to have an author and publisher back our story as one that readers can both enjoy and learn from is a suprisingly rewarding acknowledgement. For us we've always thought our story was worth telling, and many of our team were probably lured into the company by others telling the legends of the early days and the vision of where we will go next.
Ready, Fire, Aim: The Mainfreight Story is now available as an ebook from Amazon, Kobo and ebooks.com worldwide.