New Zealand Business Hall of Fame Inductee - Don Rowlands
Posted on 8 August 2014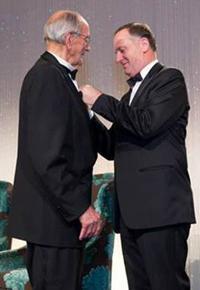 Don Rowlands, Mainfreight's first Chairman and a long-serving Director until his retirement in 2011, was honoured at an event in Auckland last night (7th August 2014).
Don was one of eight laureates inducted into the New Zealand Business Hall of Fame, with the awards being presented by New Zealand's Prime Minister, John Key.
Our current Board of Directors attended the event to support Don Rowlands' recognition, amongst many others including colleagues from Rowing New Zealand, and his other business associates.
Well done Don Rowlands – a thoroughly deserved award. We are so proud of you.