New Container Forklift and All Things Owens Transport
Posted on 20 November 2012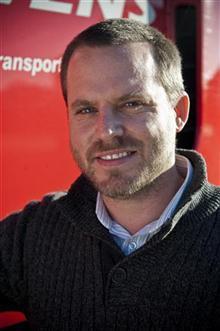 As one of the only supply chain companies to provide a complete end to end business, Owens container transport is an integral part of the Mainfreight supply chain solution. The team at Owens pick up all the containers from the wharf and transport the containers to Mainfreight Logistics or Mainfreight Transport for delivery or directly to our customers.
Recently our Owens Melbourne branch acquired a brand new container forklift aptly named the CVS Ferrari Reach stacker. Our new container forklift takes our Melbourne branch to a new level of reliability, safety and improved operational features.
Branch Manager Damian Arnold has taken time out from his increasingly busy day to take us through how the ferrari has been going in Melbourne and catch us up with all things Owens.
5 Minutes with… Owens Melbourne Branch Manager Damian Arnold
You have now had the Ferrari container forklift for 14 weeks, how is it all going?
The container forklift has reached 780 hours of use, so we are definitely getting use out of it. It is such an intricate piece of machinery that is based on sensors, so we are having fun getting used to all the bells and whistles. Operationally the efficiency is top notch and we have guarantees on service reliability to ensure it is functional 24 hours a day, which in turn ensures efficient service.
In your first 7 months at the helm at Owens Melbourne what changes have you seen?
A lot of growth that has seen our fleet almost double. There are lots of peaks and troughs and we are like an elastic band trying to be flexible with every circumstance. We have seen a massive 70% growth and we are looking forward to consistently growing every week.
Sounds great, but does it mean more of the same or will it change the way we operate?
Of course, as we expand, so does our access down at the port. Our increasing volumes allow us to negotiate better time allocation which means better efficiencies for our customers.
Culture is one of Mainfreight's 3 Pillars, how does that culture directly impact your day to day operations?
OH&S and training is an essential part of our daily business. Mainfreight have standard internal audits that are done routinely by the team at our in house training centre. In my first 7 months we have had two internal audits from the team and we are really happy with our improvements and continued focus. The internal audits are testing, but great to make sure we are constantly vigilant and continually performing to the highest of safety standards.
Looking toward the New Year, what's your vision?
We are looking for a Grad to join our team. The graduate program is such an integral part of Mainfreight and we are excited to be a part of it. Operationally, we want to build consistency with our volumes and our service efficiency.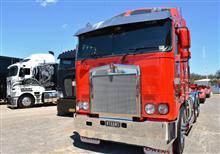 Anything else you want to add?
One of our owner drivers, Greg Cook, put his Owens painted vehicle into the Minton Truck show and took out 2nd place, showing that Owens really do have the top truck going round. Good work!
For more infomation please contact one of our team member who will be happy to discuss any enquiries.