Neil Graham ONZM - 21 October 1943 - 30 September 2015
Posted on 30 September 2015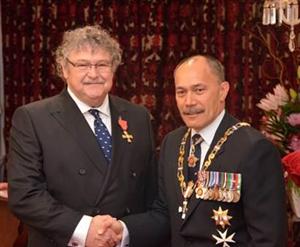 It is with very heavy hearts that we must advise that our legend, Neil Graham, has passed away today.
Neil has been part of the Mainfreight family since 1979, when he accepted Bruce's invitation to join the company as Joint Managing Director. For the following 32 years, Bruce and Neil oversaw Mainfreight's growth together, laying the foundation and culture that sustain us today. In 2011, Neil stepped down from his role as director due to ill-health, but he maintained his passion for Mainfreight with regular visits to Christchurch branch, and of course ongoing contact with his many friends that are everywhere in the business.
Today, his long fight with ill health has come to an end – and with his passing, Mainfreight has lost an integral connection with its past, but more than that, a staunch and true supporter – a special member of our family. We know that there are many, many Mainfreight team members throughout the world who will have memories of Neil – he was a character who was larger than life, and everyone who met him will have a story to share.