Mainfreight Technology | Explore your New Mainchain
Posted on 25 June 2012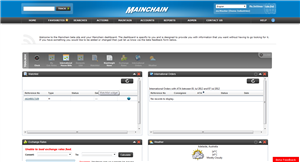 NEW! Mainchain is getting an update! Try out the advance release now!
Read all about it!Find out about the new Mainchain right here.
Or better yet, before the public release of the new Mainchain you can sign up here & have a go in the driver's seat.
This is your chance to have an impact on your freight management tool. Let us know what you think; give us feedback and suggestions on what works for you and what you would like to see more or less of. Help us make the new Mainchain the best Mainchain yet.
The Mainchain Team