Mainfreight Team Unites
Posted on 30 July 2012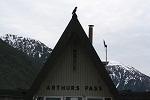 The Christchurch earthquake of 22nd February 2011 rocked the city resulting in the loss of 185 lives, severely damaging buildings, devastating families and communities and causing extensive damage to the greater Christchurch area. Many people lost their homes and the CBD was, and continues to be, heavily damaged.
An estimated $20-$30 billion recovery and rebuild programme is underway, and while many homes are still awaiting repairs, winter has well and truly arrived. Many of the Mainfreight team world-wide wanted to give their Christchurch team-mates a break from the effects of the earthquakes and the on-going aftershocks, so with the generosity of spirit from the Mainfreight teams world-wide, the Mainfreight Christchurch team recently enjoyed some fun and time-out.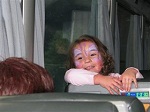 The families of Christchurch team members recently enjoyed the experience of the TranzAlpine Scenic Rail Journey, one of the world's great scenic train trips.
A full day outing on the TranzAlpine departs from Christchurch, crossing the Canterbury Plains and climbing into spectacular alpine scenery, stopping at Arthur's Pass before descending through sub-tropical rain forest, past beautiful Lake Brunner and into Greymouth.
The children enjoyed face painting, story tellers, clowns, and a colouring - and some of the young at heart got creative with their crayons as well! A BBQ lunch awaited the families on arrival in Greymouth, before the return journey back to Christchurch for some very tired and happy families.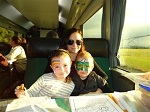 2 year old Luca and 4 year old Ava Roy were exhausted at the end of the day, with a tummy full of treats and amazing activities which kept them entertained. Luca loves playing with trains so imagine the look on his face when he saw the life sized "Thomas" The Tank Engine). Ava said "I loved getting my face painted and singing on the microphone to everyone on the train".