Mainfreight opens business park Eiland Zwijnaarde Belgium with first Logistic facility
Posted on 7 June 2018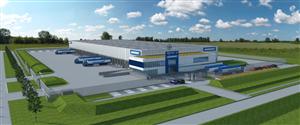 Global supply chain provider Mainfreight will move to her brand new crossdock center at Ghent, Belgium in June 2018. It is the third investment of Mainfreight in Belgium after the opening of their facilities in Genk and Evergem.
The site of Mainfreight is the first development at "Eilandje" Zwijnaarde / Tech Lane Ghent, a complete new business park. This new crossdock center has a total size of 10,000 sqm and will provide international groupage services and national distribution. From this new site, situated at the main roads of Belgium E40 and E17 and with direct connection to the R4, will offer customers a higher service level than that provided at our other site in Ostend.
The arrival of companies like Mainfreight will create new jobs in the region. Alderman Mathias De Clercq: "With the development of this business park we provide additional space in Ghent for both knowledge-intensive businesses in biotech, and logistics and distribution companies. That is good for the employment in Ghent. With Mainfreight 100 jobs are created in Ghent. At in the long term, the goal is to create around 3,500 jobs for this business park".
This new crossdock center is the beginning of an important chapter in the development of Mainfreight in Belgium. The new site gives us the chance to operate from a very good location to optimise our service and flexibility for our customers. Through this major investment, Mainfreight will also realise a decrease in CO2 emissions, continuing our goal of investing further in sustainability.
For more information regarding to this new crossdock or our services, please contact Mr. Frederik Gielis, Branch Manager, via email frederik.gielis@be.mainfreight.com or call +32 (0)494 68 12 82.