Mainfreight Delivers Christmas
Posted on 1 December 2011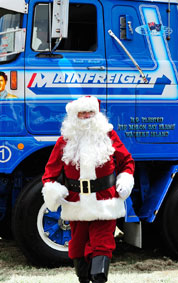 The silly season is almost upon us again and it's time to flex our collective shopping muscles and spend up large in shopping malls and department stores around the world. But have you ever wondered how those overflowing shelves of Christmas merchandise are available exactly when you want them?
Whether its baubles for the tree, food for the table, toys for the kiddies' first Christmas or the brand new 52" HD TV for yourself (because YOU deserve it) chances are pretty good Mainfreight has had a hand in getting to you.
Our International Freight team may have imported the goods from China, the USA or France; perhaps our Logistics team stored, picked and dispatched it from one of our warehouses around the globe; or our fleet of trucks transported it to your favourite retailer. One of our team may even deliver it direct to your door before the big day! In the lead up to last Christmas we moved millions of cubic metres of freight, and we're flat out doing it again!.
It's our busiest time of year and we wouldn't have it any other way.
- Mainfreight: Santa's (not so) little helper.