Mainchain Release | v4.14
Posted on 20 November 2015
This Mainchain release delivers improved Logistics options and multilanguage support
Addtional Order Entry option including carrier and service selection
Updated available stock infromation
New Language picker option
Carriers for Logistics Orders
Select from the list of carriers and service levels or enter a new carrier when placing a Logistics Order.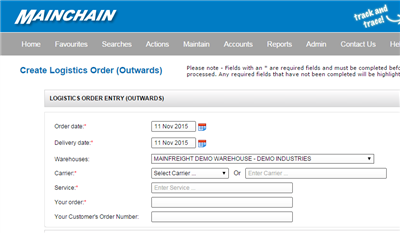 Available Stock Update
Additional stock level information at time of order placement reducing the risk of orders being placed when stock is already allocated to existing orders.
The available stock information has been updated to display:
Stock available - stock on hand that is available for orders less damaged and held stock
Stock available to order - stock on hand that is available for orders less the stock allocated to orders already
Stock on hand - Total stock in the warehouse

Language Picker
Mainchain now supports multiple languages.
To select from the available options click on the language label, select the language and Mainchain will automatically update.

Also in this update
Dashboard fixes for dulicate records - USA Domestic Widgets
Improved courier tracking for New Zealand to include additional milestones
We are interested in getting your feedback and any suggestions about how we can improve Mainchain for you.
If you have any feedback, let us know use the

option in Mainchain or contact our Mainchain Support Team