Look at us now!
Posted on 27 August 2013
In just a little over 35 years Mainfreight has grown from a one truck company to a global supply chain logistics provider. With warehousing, domestic and international freight operations worldwide.
'Go anywhere as long as it's forward'
With our worldwide network we are always looking at ways to improve our services to give our customers the best experience. The Mainfreight Team consists of 5688 passionate people over 226 branches in 18 countries. With a can-do attitude and our world class technology at their fingertips we are constantly growing to be a bigger and better company.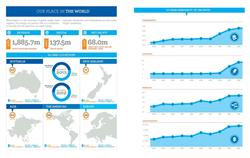 'The future is not some place we are going to, but one we are creating'
In 2028 Mainfreight will turn 50 when we aim to be the biggest New Zealand Company by size AND by market capitalisation. We set tough goals for ourselves so we will strive for greatness and not settle for being average. As the one of our truck sayings goes 'Reach for the high fruit first; you can get the low hanging ones anytime'. From broadening our worldwide network with new acquisitions to upgrading our existing sites for better performance. We are always working towards making our business better for our customers' benefit.